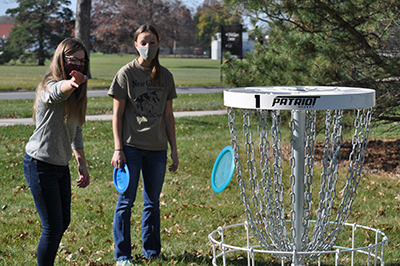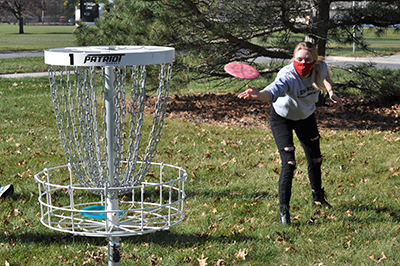 The story goes like this.
Second-year veterinary students Shauna Gross and Kelly Hubbard were in their microbiology lab when their instructor began tossing around the idea of putting in a disc golf course at the College of Veterinary Medicine.
"We both quickly jumped in and encouraged Dr. (Gayle) Brown to move forward with the idea as both Shauna and I are disc golf fanatics," Hubbard said.
So before you know it there's a nine-hole course on the grounds surrounding the College of Veterinary Medicine.
Well, it wasn't that simple. It actually took a village including Gross, Hubbard, Brown and their spouses, along with Dr. Eric Rowe and fellow vet students Kale Tilley, Alex Yoerger, Emily Pratt, Audrey Peschong, and Leah Hayes and her spouse.
Getting the course designed and the approval was a process. Gross, Brown and their husbands watched countless YouTube videos and brainstormed ideas on how to build moveable disc golf baskets.
It then took them a couple of hours to actually build the first basket. An assembly line of above-mentioned students finished the eight remaining baskets for the nine-hole course.
And the course needed to be designed. Although Hubbard says she hadn't officially designed a course before, it wasn't due to the lack of thinking about it.
"My husband and I have designed no less than 100 courses in our heads during road trips and walks," she said. "I've been eyeing the area where the course is located for a couple of years."
Hubbard and Gross wanted the course to be not only fun and interesting, but challenging. The nine-hole course begins and ends at the Fish Tank Lobby entrance. After the initial design, the two played multiple rounds with different people to see if the course flowed well.
"Our biggest changes were holes that looked cool but turned out to be quite impossible and making sure the baskets were safe," Hubbard said.
The duo received official approval to set up the baskets on October 30. By Halloween all the baskets were in place and the course was open for business. Number four is the most technically challenging hole on the course. The drive is between a tree and a bush so although it is one of the shorter holes it can be less forgiving.
Gross and Hubbard each have their own favorites.
"Hole number five is my favorite," Gross said. "I like the scenery but it also allows me to use a forehead throw which is my preferred tee off."
"Hole number eight ends in the pines," Hubbard said. "It feels like you're not even on the vet med campus anyone once you're in there. It's very calming."
Gross and Hubbard hope students and faculty will view this course as an opportunity to get outside in between classes, meetings, over lunch, at the end of the day – whenever they can find the time.
"The course will be maintained year round, and even if people only do a couple of holes, it will provide a great opportunity to try something new or practice their throws," Gross said. "Disc golf is a great activity that allows for maintaining social distance while spending time with friends."
November 2020