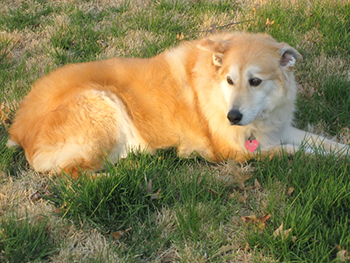 Forever Grateful
A simple gesture continues to touch Mary Taylor of Des Moines years later.
Taylor brought Aspen, a 14-year old Australian Shepherd, to the Lloyd Veterinary Medical Center in the College of Veterinary Medicine for treatment. Aspen had cancer in her leg and after undergoing one treatment, Aspen's leg curled up and she couldn't walk.
Taylor knew it was time to make an end-of-life decision for Aspen.
What happened after that has continued to have an impact on Taylor's life.
"The students on the case sent me a condolence card and gave $100 in Aspen's name to the Companion Animal Fund," Taylor said. "I thought that was just the sweetest thing anyone had ever done.
"Aspen was my first and only dog. Their gesture meant so much to me. I've never forgotten the wonderful care Aspen received."
One of the students who treated Aspen was Dr. Lisa Bertenshaw Thilges ('06). Now the owner of Prairie View Animal Hospital in Grimes, Iowa, Thilges continues the practice of memorializing a pet.
"Many of these pets have become a special part of our day," Thilges said. "Owners have lost a dear family member in a way that not many of them are prepared for. The bond we share with their pet is a bond that cannot be described in any other relationship except for between a veterinarian-client-patient.
"A small gesture, such as a handwritten note, shows that we understand their loss and the difficult choice they made."
The handwritten note Taylor received is the reason why she has supported the College of Veterinary Medicine's Companion Animal Fund ever since.
"I continue to give every year because of that note and tell others that is why I contribute," Taylor said. "I'm still touched about how wonderful they treated Aspen and myself."
Remember pets like Aspen by contributing to the Companion Animal Fund.
July 2021