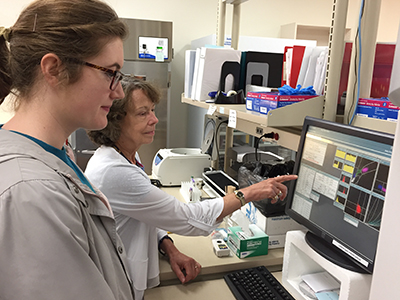 For the past two and one-half years, College of Veterinary Medicine veterinary students and resident trainees have participated in research projects related to One Health with funding by the Dr. Roger and Marilyn Mahr Professorship in One Health.

Even with the challenges of COVID-19 and adapting to virtual and hybrid learning, veterinary students were ready for virtual research and numerous Zoom meetings with their project mentors. Now that laboratories are opening with CDC recommendations for in-person research, One Health projects that were delayed due to COVID-19 are continuing, and the longer winter break is providing additional research time.  

Two 2020 One Health summer scholar projects switched to virtual data analysis. Aletta Anderson (Class of 2023) continued work started by Elizabeth M. Hines (Class of 2021) to correlate the presence of immature red blood cells seen on dog blood smears to disease syndromes seen in canine and human patients, since little scientific data is published in either species.

Gabriella Henthorn (Class of 2023) examined reports in cats that were PCR positive for Bartonella sp., an infection that both cats and humans can get, to determine if there are findings that indicate a definitive need for Bartonella sp. testing. Over winter break, Henthorn will be examining similar reports for dogs. Both Anderson and Henthorn presented their findings at the August 2020 National Veterinary Scholars Symposium.
The One Health Initiative at the Iowa State College of Veterinary Medicine, directed by Dr. Claire Andreasen, has a major focus on education, especially student-centered learning and One Health education advocacy to train future generations about basic and applied research that enhances animal, human, and environmental health.

This program now has an expanded partnership with the National Institute of Antimicrobial Resistance Research and Education (NIAMRRE) directed by Dr. Paul Plummer. This partnership enhances the goals of both the CVM's One Health Initiative and the National Institute of Antimicrobial Resistance Research and Education (NIAMRRE), with a focus on infectious/zoonotic diseases and areas related to antimicrobial resistance.

A pilot program was started by providing funding for projects involving Iowa State veterinary students and veterinary residents in clinical training, with priority given to research projects that it might be difficult to secure initial small funding, but the data could be leveraged for additional grant proposal submissions. Projects include work by Alexandria Yoerger (Class of 2022) to determine the types of antibiotic resistance bacteria of healthy and ill companion animals to better decrease the potential for nosocomial infections, and work by Belen Hernandez, DVM, Veterinary Pathology Resident/ PhD student in understanding the potential of zoonotic transmission, co-evolution, environmental exposure and antibiotic resistance of Clostridium difficile in humans and companion animals with molecular characterization.

Current ongoing projects include: continued investigation of methods for surveillance of methicillin-resistant Staphylococcus sp. in veterinary clinical settings; evaluation of antimicrobial resistance in captive Bonobos (Pan pansicus) by Kelly Mahoney (Class of 2023); and using a swine model for studying drug resistance in human trichomoniasis by Kris Kovach (Class of 2023).
Veterinary students may or may not have a research career in their immediate plans, but they do gain first-hand experience and understanding of the intersection of animal, human and environmental health. With the initial success of the pilot program, we anticipate future expansion for interested veterinary students. These research investigations are possible due to the dedicated veterinary students, mentors, and laboratory groups with donor funding by the Dr. Roger and Marilyn Mahr.
Professorship in One Health

December 2020