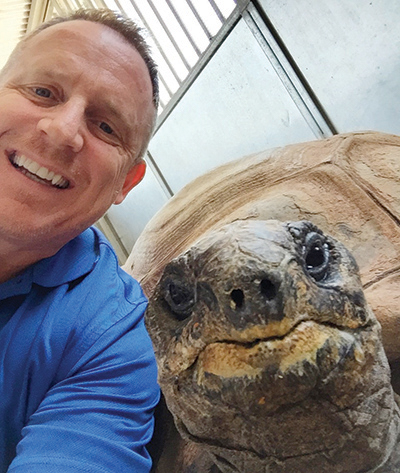 Never in His Wildest Dreams
The thought of becoming a zoo veterinarian didn't cross Dr. Gary West's mind while he was growing up.
Instead West was excited about wildlife but the wildlife he was interested in, inhabited the area around his Buffalo Center, Iowa home. He hunted and fished. His mom was an animal lover and he recalled "raising" squirrels and ducks.
"I always loved being around animals but my love was always wildlife, not domesticated animals, so going to veterinary school really didn't occur to me," West said. "Then a friend of mine suggested that I could work with zoo and wildlife animals."
The idea clicked with West who entered Iowa State's College of Veterinary Medicine as an early admit. Once in veterinary school, his focus changed from wildlife to zoological medicine. 
He made contacts at zoos in Des Moines and Omaha. Soon he was touching tigers and working on polar bears.
He was hooked from that moment on.
West was a frequent visitor to the Blank Park Zoo in Des Moines where he connected with Dr. Dennis Riordan ('81), the zoo's veterinarian.
"If I could get away from school, I would shadow Dr. Riordan," West recalled. "I was that annoying vet student, always wanting to tag along."
Riordan encouraged him however as did Iowa State faculty member, the late Dr. Charles Thoen. West did an externship with Milwaukee Zoo, getting as much zoological experience as he could before graduating in 1995.

Yet despite all of his preparation and excitement about becoming a zoo vet, West instead went into private practice in Wisconsin. That's when Thoen encouraged him to get in touch with another Iowa State alumnus – Dr. Richard Houck ('56).
"At the time, Dr. Houck was the head veterinarian for the Ringling Brothers, Barnum and Bailey Circus," West remembered. "When I first talked to him, he said he 'wanted to hire an Iowa Stater.' We hit it off and he offered me a job with the circus.
"That's how I broke into zoo medicine."
Since that point West has made a number of stops, including a pair of academic positions at the veterinary colleges at Cornell University and Kansas State University. After the circus, West worked at zoos in San Antonio, Oklahoma City and since 2010 as the lead veterinarian at the Phoenix Zoo.
"For zoo medicine, I'm very non-traditional," he said. "It's a crazy competitive field – I'm glad I'm not applying for zoo positions now."

At the Phoenix Zoo, West and his team are responsible for the 3,000+ animals under their care. He estimates they treat between 100 and 200 animals on a monthly basis in addition to yearly checkups. He says his Iowa State veterinary education prepared him for life as a zoo veterinarian. 
"I have a very strong background thanks to Iowa State on what diseases are," he said. "I soaked up everything I could."
Even though he's working with exotic animals, West relates them back to animals he trained on while at Iowa State. He says an elephant is physically a bit like a horse, so you need an equine background. A giraffe is "a cow with a long neck," a sea lion is "a dog with flippers," while a rhino "is basically a large horse with a horn."
Knowing your domestic animal medicine helps you understand zoo animal medicine," West said. "The medicine between species is all very similar."
While West has had a soft spot in his heart for elephants since his days with the circus, he says he enjoys working with desert species.
"Arizona is very biodiverse and this zoo reflects that diversity," he said.
Bottom line though, the conservation activities of zoos is the big selling point why West continues in this veterinary profession. Zoos annually spent $200 million in conservation activities and remain the last refuge for many species.
"There are species of animals that are being saved primarily because of zoos," he said. "For the size of our zoo, we've made significant efforts in conservation."   
October 2018