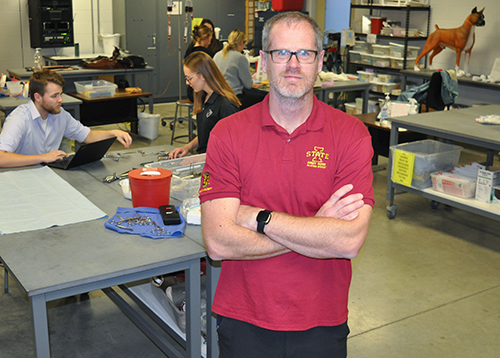 When "Frosty" arrived on the scene a few years ago, the life-size Holstein dystocia simulator was the centerpiece of the Clinical Skills Laboratory (CSL).
Frosty and its fully articulated 70-pound calf, "Snowflake," pretty much had the CSL to themselves. There's a publicity photo taken in the early days showing a pair of veterinary students having plenty of room to simulate a calf pulling. It was thanks to gifts from Dr. Scott ('75) and Nancy Armbrust, Dr. Paul Armbrecht ('71), Dr. John Kurt ('75), and Dr. Dan Smith ('75) that Frosty and Snowflake were added to the CSL.
Today, thanks in large part to the Forever True, For Iowa State fundraising campaign, Frosty has plenty of company. A full-size equine palpation/colic simulator is among the countless other models and simulators purchased with funds contributed to the campaign.
It got so crowded that Frosty had to "moove" on, finding her way to the newly-renovated Veterinary Field Services building and another clinical skills lab.
"The Clinical Skills Lab bridges the gap between lectures and the students' labs and clinical year," said Dr. Brian Collins, CSL coordinator. "It builds up their confidence before they perform a procedure on a live animal."
The CSL was created to provide opportunities for students to become more confident about any number of procedures. It solves an age-old dilemma on having student veterinarians gain experience in the profession before treating a live animal for the first time. The CSL is equipped with medical simulators, realistic animal models and state-of-the-art computer programs, which have been purchased with private donations and college funds.
In recent months, Collins has utilized private gifts to purchase a wide array of models including one for dentistry and another for anesthesiology. His goal is to find enough room in the CSL to create a mock surgical suite for students to utilize.
"I relied on private gifts to purchase all of these models," Collins said. "These models allow the students to get their techniques down pat."