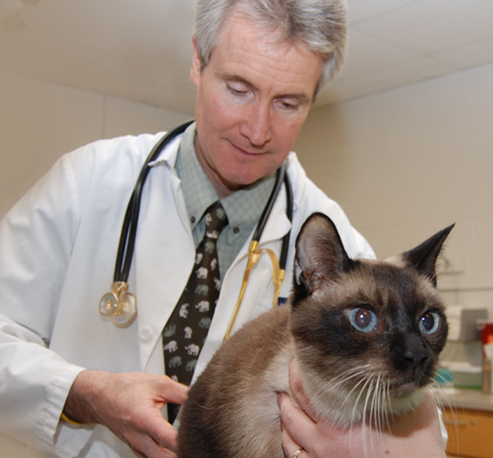 Goal Focused
To say Dr. Al Jergens is focused on achieving goals would be an understatement.
Jergens, the Donn E. and Beth M. Bacon Professor in Small Animal Medicine and Surgery in the College of Veterinary Medicine, has spent a lifetime setting and completing a variety of goals.
"When I was an undergraduate, my goal was to go to vet school," Jergens said. "When I was in vet school, my goal was to do a residency. When I was a resident, my goal was to become board certified."
Jergens continues to click off the goals he set for himself and the fact that he achieved those – from conducting clinical research in an academic setting to getting his MS and PhD degrees at Iowa State in veterinary pathology and immunobiology, respectively.
"I've checked all of these off. For whatever reason I have been fortunate and have worked through these goals. Sometimes I get knocked off my horse," the Texas native says, "but I always look for ways to get back on."
These days, Jergens has been checking off goals in his aspirations in clinical research. The Department of Veterinary Clinical Sciences currently has around 15 ongoing clinical trials. Jergens in involved in six of those.
He is also collaborating with other college faculty members to improve safety and efficiency in development of new drugs, the so-called "drug discovery" pipeline. Through a five-year research collaborative agreement with the U.S. Food and Drug Administration, the team (Drs. Jon Mochel, Karin Allenspach, Jergens and their laboratory group) is developing a canine intestinal organoid model based on cultivation of canine stem cells. This will allow scientists to explore potential factors influencing the oral absorption of therapeutic drugs without requiring excessive testing of live animals in a laboratory setting.
"My research is largely translational," Jergens says. "I enjoy investigating health problems that effect both animals and humans.
"I like the challenge, the complex problems we face and how best to investigate them. Overall, I find translational research challenging but with great potential to improve the health of both animals and humans."
That strategy includes multidisciplinary collaboration with colleagues both at Iowa State and throughout the world. Jergens highlights collaborations he has with Dr. Mike Wannemuehler, professor and chair of the Department of Veterinary Microbiology and Preventive Medicine, and Dr. Karin Allenspach-Jorn, professor of veterinary clinical sciences, and Jonathan Mochel, associate professor in biomedical sciences, as examples.
"I greatly enjoy multi-disciplinary collaborations with Iowa State faculty and international colleagues," he said. "That's how I met Dr. Allenspach and how Mike Wannemuehler and I first began our earliest colitis research studies around 20 years ago.
"Collaboration is a shared event," Jergens continued. "I think it's fascinating to work with interesting individuals on research projects."
Jergens has been at Iowa State now for 29 years. When he first arrived at the College of Veterinary Medicine, he was only the third internal medicine specialist working in the hospital.
Three decades later, he says his research collaborations, clinical trials and working with students and patients make Iowa State the right place for him.
"I really like the land grant college mission and the concept that we educate everybody."
December 2018