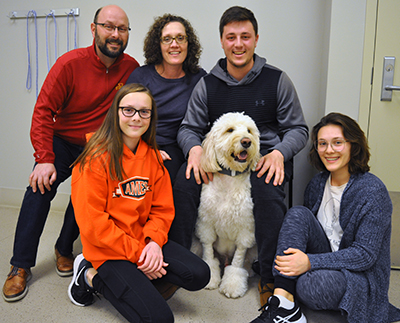 Happy at Home
One thing Dr. Rebecca Walton, clinical assistant professor in the Hixson-Lied Small Animal Hospital, can count on year-in and year-out, is that her and her fellow ER/ICU staff members will see a lot of dogs diagnosed with Leptospirosis.
But none came into the vet clinic's ER with a case of Leptospirosis like Benny, a 1 ½-year-old Goldendoodle.
"Benny was one of the worst cases I've seen," Walton said. He was an extremely severe case, his kidneys had been hit really hard."
Leptospirosis is a disease caused by a bacteria that can affect not only a dog's kidneys and liver but also the blood's ability to clot. And what makes the disease even more frightening to owners is that the symptoms of Leptospirosis vary and are nonspecific.
Sometimes pets do not even have any symptoms.
The bacteria that causes Leptospirosis is spread through the urine of infected animals, usually wildlife animals. Dogs can get infected by drinking from standing water that has become infected or even loclomg the grass.
After Benny was admitted to the Hixson-Lied Small Animal Hospital, he was diagnosed with a kidney injury and was started on antibiotics and fluids.
"The infection was bad and we were really concerned that his kidneys would not recover," Walton said. "His kidneys needed a lot of time and care to get better."
Walton had reason to be concerned. When he was admitted, Benny's kidney values were exceptionally high at 16 mg/dl and he was barely able to urinate. A normal dog's kidney value is 1 mg/dl. To complicate matters further, Benny didn't initially respond to treatment.
"For the first couple of days there was no improvement on his bloodwork despite receiving treatment for Leptospirosis," Walton said. "We knew his case was really severe, however, most cases show some improvement within the first few days of hospitalization, which was not the case with Benny.
"We were definitely concerned enough so that we discussed referring him to another hospital for dialysis."
After three days, Benny's owners, the Gens family of Ames, began to consider if it was time to stop his treatments. After seeing their pet in the hospital, they made the decision to wait another day so their oldest son could come home from college to say goodbye.
"On paper, Benny's numbers looked bad," Walton said. "But he was happy. He would wag his tail, shake hands. He was fighting the disease so hard. "Almost everyone else would have stopped the treatments but his owners kept on going and Benny is now happy at home."
What the Hixson-Lied Small Animal Hospital team did was turn Benny around. By the fourth day, his kidney levels started to improve. It would take many more weeks, a dedicated team of veterinarians, and a patient, caring family before Benny finally turned the corner. By the time he left the hospital his kidney levels were at 4.0.
"He's on the mend," Walton said. "He is still receiving fluids and medication at home, but his family are doing an amazing job with his care. They sent us videos of him over Christmas and Benny was running around like nothing was wrong.
"Despite now having chronic kidney disease, he will be able to have a happy and long life."
Walton says while it is difficult to prevent dogs and other outside pets from getting Leptospirosis and that dogs should be vaccinated against it to prevent the disease as much as possible. Owners should avoid standing water when walking their pets and just be aware of the illness.
January 2020