For almost 150 years, the College of Veterinary Medicine has educated and graduated veterinarians who have gone onto stellar professional careers.
Many of those alumni have been honored by one veterinary organization or another with an award for their achievements. These awards usually highlight "distinguished service" or are tied to a specific discipline.
At least four of these national awards are named after distinguished CVM alumni.
---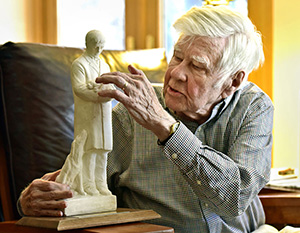 Senator John Melcher, DVM
Leadership in Public Policy Award
This award is named after former Montana U.S. Senator and CVM graduate Dr. John Melcher ('50). The national public policy award is awarded annually by the Association of American Veterinary Medical Colleges (AAVMC).
Melcher served two terms in the U.S. Senate and was the first veterinarian to serve in that body. He also served four terms in the U.S. House of Representatives. Melcher established the Yellowstone Veterinary Clinic and treated horses, cattle, pigs, and sheep until his election to Congress in 1969.
The award is given for leadership in public policy which advances veterinary medical education and for advocating for veterinary medical education on a national and international scale.
Melcher was actually the first recipient of the award that would later be named in his honor. Since then, two CVM graduates have received the award including Dr. John U. Thomsen ('67), dean emeritus, in 2011.
"Dr. Thomson's vision has always been that the veterinary profession speaks with a single voice," said then AAVMC executive director Dr. Marguerite Pappaioanou. "For more than four decades, he has worked tirelessly to bring industry, practitioners, and veterinary educators together in a powerful, unified coalition to press for legislation vital to the health of the veterinary profession."
Dr. James Roth, Clarence Hartley Covault Distinguished Professor and director of the Center for Food Security and Public Health (CFSPH), was the recipient of the Melcher Award in 2018.
"This award recognizes not just me, but the entire CFSPH team of professionals for their work to improve education on topics related to public policy and regulatory veterinary medicine," Roth said in 2018.
---
E. P. Pope
E.P. Pope Memorial Award
The Pope Award is the highest award given by the American Association of Veterinary Laboratory Diagnosticians (AAVLD). Dr. E.P. Pope was a 1949 graduate of Iowa State.
The award is presented annually to an individual who has made noteworthy and significant contributions to the association by implementing and advancing the recognition of the specialty of veterinary diagnostic laboratory medicine. A recent recipient of the Pope Award is Dr. Pat Halbur, professor and chair of the Department of Veterinary Diagnostic and Production Animal Medicine and the executive director of the Veterinary Diagnostic Laboratory.
"I have been very fortunate to spend much of my career as a diagnostic pathologist or in a leadership role in the Veterinary Diagnostic Laboratory," Halbur said in 2021 when he received the Pope Award. "Throughout my career, I have had the opportunity to get to know, to stand on the shoulders of, and in some small way, carry on the work of some remarkable thought leaders in diagnostic medicine."
---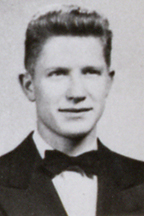 T.J. Lafeber
Avian Practitioner of the Year
1949 was a good year for Iowa State graduates. In addition to Dr. Pope, that graduating class included Dr. T.J. Lafeber, a pioneer in companion bird medicine and the human-companion bird bond.
Lafeber's concern for the health and welfare of his avian patients led him to develop medical treatments, diagnostic techniques, and nutritionally balanced foods. His lectures were infused with his caring demeanor and enthusiasm, inspiring students and veterinarians to advance the fledging field of companion bird medicine.
The T.J. Lafeber Avian Practitioner Award is given annually by the Association of Avian Veterinarians to an outstanding practitioner who has advanced the quality of health care for companion birds.
Each year, the recipient of the Lafeber Award is presented with a bronze cast statue of Dr. Lafeber's hands and his most beloved avian patient – the budgerigar.
---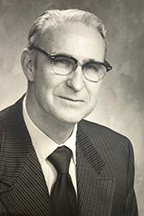 Howard Dunne
Memorial Award
The Dunne Award is presented annually by the American Association of Swine Veterinarians (AASV). Named for Dr. Howard Dunne, a 1941 CVM DVM graduate, the award is given to an AASV member who has made a significant contribution and rendered outstanding service to the AASV and the swine industry.
Over the years, countless Iowa State alumni and faculty have been named recipients of the Dunne Award. One of those individuals was Dr. Kent J. Schwartz ('78), then a veterinary diagnostician in the Veterinary Diagnostics Laboratory.
"Dr. Schwartz has been an invaluable resource to swine veterinarians, the pork industry and the AASV," said Dr. Tom Burkgren, executive director of the AASV in 2009 when Schwartz was named the Dunne Award recipient. "His willingness to share insights and knowledge in the area of diagnostics by providing continuing education to veterinarians and producers has greatly benefited the industry."
September 2022