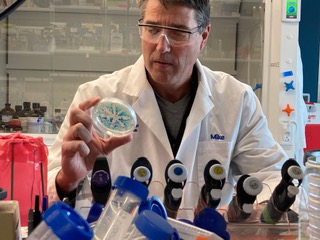 Microbiology isn't a course many would associate with high school.
Just such a class at Knoxville High School was the catalyst that propelled Dr. Mike Roof (PhD immunobiology '91) to a career that has ultimately led him to be the chief technology officer for vaccines and immunotherapeutics at Iowa State University.
"I was lucky enough to have a microbiology class in high school, so I came to Iowa State as an undergraduate focused on getting a degree in science with an interest in microbiology," Roof said. "While I was an undergraduate I was lucky to get a part-time job in Dr. Paul Hartman's lab where I did basic la maintenance typical of student help."
Roof must have impressed someone because soon several of Hartman's graduate students were asking him to help with their research efforts. Eventually he was given small experiments to run on his own.
He was hooked.
Roof loved it all – from working with scientific tools and innovative methods to solving problems that added value and benefit.
"I just loved the research environment," Roof said, "especially the passion my co-workers had for their projects.
"Every day was something new and different."
After graduating in 1991 with his PhD, Roof went to work for Nobl Labs, now part of Boehringer Ingleheim Vetmedica, Inc. He moved through the company's ranks eventually serving as executive director of Bio-R&D.
His love of research continued in that role.
"Research is about finding ways to solve problems that have yet to be solved," he said. "When I am told it can't be done, it motivates me to find innovative and practical ways to solve problems."
Solving those problems can be a challenge, especially when "90% of what you do doesn't work."
"Yet you must keep trying," Roof said. "You seldom do the same thing twice and because of that I love the variety of research."
After more than 20 years with BI, Roof has switched gears, moving from the private sector to the public one with his new position at Iowa State.
In a lot of ways, he's doing basically the same job. Yet there are some distinct differences. As the chief technology officer for vaccines an immunotherapeutics, Roof works with faculty to accelerate the technology transfer, licensure and commercialization of their R&D efforts.
"When I was in industry I searched for technology we could develop," he said. "Now I look for technology that can be developed and help our researchers find the best partner.
"In my latter stages of my industry career, I was getting distant from the customer and the laboratory. When I thought about what I liked most about my job, it became clear that it was working with universities, scientists and the technology transfer.
"Although it was scary to leave a 25-year career with a great company, this was the best decision I ever made. Being part of Iowa State is a dream come true."
May 2021