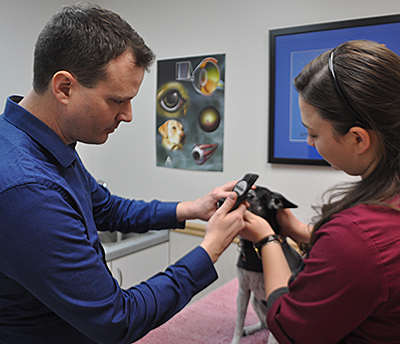 A Different Look
Kathleen Kimball hardly had time to get situated before the fourth-year Iowa State veterinary student was seeing her first patient of the day.
"It's helpful to watch the doctors manage more than one case at a time and utilize their technicians to do the 'behind-the-scenes' work while they figure out the problem quickly," Kimball said. "It's a method we're not asked to do much at Iowa State because we are only responsible for a few cases per day."
Welcome to the fast-paced atmosphere of a clinic outside of the comfortable confines of the College of Veterinary Medicine's Hixson-Lied Small Animal Hospital.
"It's definitely a little more fast paced here than it is back in Ames," said Dr. Travis Strong, ophthalmology resident. "We expedite cases here much quicker."
Students agree with Strong.
"I think many students would benefit from experiencing IVS in order to get an idea of what private practice is like," said Zachary Cochrane, a fourth-year student. "Students need to understand that in the real world, we do not get three hours for each case and observing ophthalmologists at IVS is helpful in learning skills of clinical efficiency."
Every Tuesday a group of Iowa State veterinarians and students make the trek from Ames to Des Moines where they set up shop for the day.
The ophthalmology team at Iowa State spends the day seeing patients at Iowa Veterinary Specialties (IVS), a very different setting than they are used to at the Hixson-Lied Small Animal Hospital.
IVS is Des Moines' premier veterinary emergency and specialty hospital and is affiliated with the College of Veterinary Medicine.
Typically, a pair of faculty members or residents, along with a couple of fourth-year veterinary students, will see between nine and ten cases each Tuesday between 9:30 a.m. and 2:30 p.m.
"It was fast-paced, there were a lot of appointments, and we went from one room to the next," said Shane Proietto, a fourth-year student. "At IVS, you see every animal, you go into every appointment, you are able to practice technical skills."
For Iowa State's fourth-year veterinary students on an ophthalmology rotation, working at IVS, even for just one day, gives them a much different perspective.
"Even just one day of doing that is helpful in understanding that your knowledge is as important as your speed in applying it," Kimball said.
"This is a real-world experience on how to deal with ophthalmology cases in a clinic setting," said fourth-year student Jade Lanier. "During my day at IVS we had one patient that needed to be sedated to examine and I got a first-hand experience on how to sedate a patient who will wake up shortly to be able to go home with their owner."
Because additional cases are scheduled, veterinary students have less time to actually work up the case. And for some students, they get to see special cases.
"While I was at IVS we saw a Doberman puppy with an ocular dermoid, which is pretty rare," said Mel Johnson, a fourth-year student. "It had a hair growing out the abnormal tissue and was irritating the eye. It was amazing to see first-hand."
Johnson said her day at IVS prepared her in a different way than her time at the Hixson-Lied Small Animal Hospital did
"Every clinic does things differently, and it's always beneficial to see how each facility works," she said. "That way you get a feel for how you would like your practice to run in the future.
"During my day at IVS I saw cases that I will likely see as a veterinarian in general practice. It is always helpful to get exposure to commonly treated problems, because that prepares us for next year when we will be on our own."
March 2017