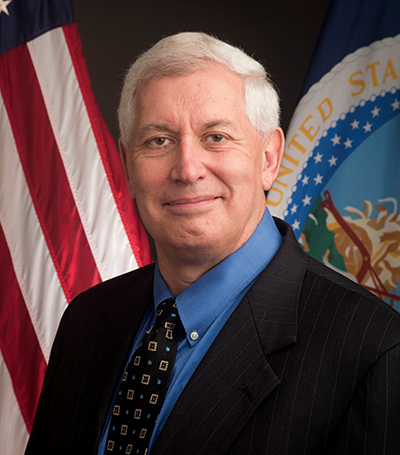 An Interview with Dr. Jack Shere
Jack Shere is the Deputy Administrator for the U.S. Department of Agriculture (USDA) Animal and Plant Health Inspection Service (APHIS) Veterinary Services and Chief Veterinary Officer of the United States. He leads the organization's efforts in protecting and improving the health, quality and marketability of the nation's agricultural animals, animal products, and veterinary biologics. He is a 1987 graduate of Iowa State's College of Veterinary Medicine.
GD: Was this the career you envisioned when you graduated from veterinary school?
Shere: No, not even close. I originally wanted to be a practitioner to help animals. I thought that the only way to do that was on an individual-animal basis. The longer I was in private practice the quicker I learned that practice has a rhythm and a pace, and many days were often similar; and in our practice, there was a lot of on-call work. Throughout my life, it's always been about challenges. And, I decided I wanted another challenge. 
One of the other veterinarians in the practice left to become a USDA veterinary medical officer (VMO). What she described about the job really caught my interest. The health of the animal was always important to me. In practice it's all about the individual animal, while the USDA focuses on national herd health. I wanted a job that I could still use my education and training. It seemed like a good fit. I applied to the USDA, was hired, and began my year-long training to become a VMO.
GD: Fast-forward three decades, you're the Deputy Administrator of the USDA's Veterinary Services and the Chief Veterinary Officer of the United States. That's quite an upward trajectory.
Shere: Never planned it. I was all about the challenge. I had been working as a VMO for 1.5 years when I starting to ask myself what's next. I didn't want routine. I was still in Wisconsin when my boss took me to the veterinary school and I learned about poultry science. I enrolled in the PhD program and was going to learn something that was going to be of value to the USDA. Since I've been in the USDA, poultry disease has been one of the major diseases that we have fought on the ground.
As new challenges came up, I stepped into them. When the then-Chief Veterinary Officer asked me to come to Washington, I went. It was the last place I wanted to go. Many people are very happy to be a veterinary medical officer. I enjoyed it, too. But I also liked management. A good manager is someone who has an appreciation for diversity and the differences that people bring to the job. I love that aspect of my job.
GD: How do you define success?
Shere: It's changed over the years. Early in my career it was all about what I did as an individual, alone. A lot was ego-driven.
As my career advanced, I'm all about teamwork. I would rather see the idea hatched, but worked out and taken forward by others, making sure that they get the credit. It took me a long time to get to that philosophy. I've seen what people can do together versus what they can't do apart. You can't do anything as well by yourself, as you can do if you have help. 
GD: How do you manage career and personal life?
Shere: When I was a field VMO, I put in 40-50 hours/week, and my weekends were my own. I didn't get into the higher levels of government until my kids were in high school. Life balance gets tougher as you go up the ladder. I work 60-70 hours/week. My job is 24/7. I travel a lot and my schedule gets changed a lot. When things happen, people are looking for answers and I need to be reachable and attainable.
I rely on my staff to help me with that balance. You have to trust that if you are not watching what is going on, that someone else has the wheel. There are days that I am double- and triple-booked. Staff makes sure that I'm at what's most important. They are as dedicated to getting things right as am. They look out for me.
GD: Any advice for veterinary students and new graduates?
Shere: We aren't on this earth long. Don't devote your entire life to your job. Do what you enjoy, then it isn't work. You have to take time to enjoy your life.
I love my work. The work is important. The people I work with at the Animal and Plant Health Inspection Service and the USDA are very dedicated, hard-working and extremely professional. I'm excited to see and work with these people every day.
October 2018