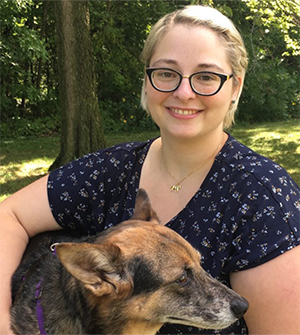 A New Approach
As the owner and sole veterinarian of Healing Hands Holistic Veterinary Service in Ames, Dr. Jessi Turner, CVA doesn't just practice holistic medicine.
"I like to think I treat patients both from a Western point of view and an Eastern point of view," said Turner, a 2011 College of Veterinary Medicine graduate. "My Iowa State veterinary education gave me the foundational knowledge that I use every day in diagnosing and treating my patients and working with other veterinarians."
"In order to achieve the best results with the services I offer (acupuncture and low-level laser therapy), you have to have a good grasp of anatomy and my Iowa State education provided me with that."
Make no mistake though, Turner is a strong advocate of alternative, complementary and holistic veterinary medicine, including traditional Chinese veterinary medicine, photobiomodulation, behavior, chiropractic, nutrition, pain management and rehabilitation.

It was during her fourth year at Iowa State that she became interested in this veterinary approach.
"I thought something was missing and wondered if there could be another piece to help patients," Turner said.
She spent almost three weeks in China during her fourth year, where she studied acupuncture and traditional Chinese veterinary medicine in Beijing. Since graduating, she completed the six-month Mixed Acupuncture Training Program through the Chi Institute.
"My experience in Beijing was so awesome," Turner said, "that I decided to complete the acupuncture program."
She is now a Certified Veterinary Acupuncturist and has been operating her practice for five years.
Turner will admit acupuncture for animals can be a hard sell in Iowa, "but people have been more open to it than you would expect."
While Healing Hands Holistic Veterinary Service is a mixed-animal practice, Turner currently treats primarily dogs.
"Most of the patients I see are for pain or paralysis," she said, "but I have treated a variety of ailments, including kidney failure, allergies, cancer, and others."
October 2018