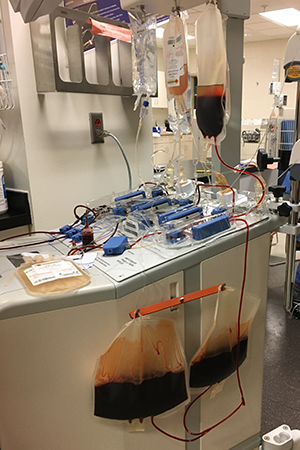 A Little Easier
Technology has always made our lives easier.
Now you can add the Emergency Critical Care team in the Hixson-Lied Small Animal Hospital to the list of individuals whose lives are a little easier today.
The ECC team recently added a plasma pheresis machine to their treatment arsenal for companion animals. The new machine allows the ECC team to remove plasma that often contains harmful substances including antibodies or toxins from the patient.
It's not like the ECC team couldn't do the procedure before. But that method was time and labor extensive.
"Previously we could perform a plasma exchange, however, we had to do the procedure manually by removing the plasma and spinning it down in the centrifuge prior to giving it back to the patient," said Dr. Rebecca Walton, clinical assistant professor in veterinary clinical sciences. "While it was successful, the procedure took 10 to 12 times as long to perform.
"Not to mention it wasn't very efficient."
The new plasma machine is critical in helping the ECC team treat common diseases where antibodies are attacking the body or auto-immune conditions in addition to removing certain toxins from circulation.
The procedure involves inserting a large catheter in the patient's jugular vein which is then hooked up to the machine. Walton and Dr. April Blong, clinical assistant professor in veterinary clinical sciences, describe the process as similar to people who donate platelets or plasma at donation centers. The blood is then processed in a large centrifuge before the red blood cells are given back to the patient.
"We can use this in both dogs and cats although smaller dogs and cats are a little more challenging as they have lower blood volume and there is a lot of blood volume in the machine during treatment," Walton said. "In those cases, small dogs and cats may need a blood transfusion while undergoing this treatment."
February 2021