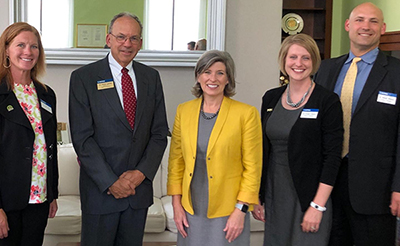 Dr. Chuck Lemme's first job out of vet school was at the Bramer Animal Hospital in Evanston, Illinois.
It was at this practice where the 1975 College of Veterinary Medicine began his career as a small animal practitioner. For 10 years, Lemme worked at the clinic before purchasing his own practice in Cedar Rapids.
The Bramer Animal Hospital was also the beginning of Lemme's career-long involvement in organized veterinary medicine at the local, state and national levels.
"The two owners of this practice both served as presidents of the Illinois VMA (Veterinary Medical Association)," Lemme recalled. "Dr. Roger Mahr had also worked at the clinic before I started. He was the first one to ask me to get involved with the Chicago VMA.
"I blame him," Lemme chuckles.
Since that initial involvement, it's been one committee after another, one elected position after another. He has served in numerous leadership positions in the Iowa Veterinary Medical Association, including as a committee chair, board member and president in 2007. Lemme has also been an active member and president of the Linn County Veterinary Medical Association and the Eastern Iowa Veterinary Medical Association.
"These activities were a great distraction for me," Lemme said. "Working with these groups was a great way for me to get away from the day-to-day operations in my clinic.
"But more importantly, they were great learning opportunities. I learned about things I would never had been exposed to if I had just concentrated on my practice."
He has served as president of the Midwest Small Animal Association and as an area director for the American Animal Hospital Association (AAHA). It was while he was with AAHA that Lemme first became involved with the AVMA, serving on that organization's Clinical Practitioner's Advisory Committee to the Council on Biologic and Therapeutic Agents.
"This committee has a lot of interaction with the FDA," Lemme said. "Going to Washington and meeting one-on-one with governmental officials I felt I was doing something important, but I was also learning what an important role AVMA plays for our profession."
He is currently serving a six-year elected term to the AVMA Board of Directors where his responsibilities and experiences have expanded across all segments of the veterinary medical profession.
For his service to the veterinary profession, Lemme has been awarded the William P. Switzer Award by the College of Veterinary Medicine.
Lemme's involvement has continued even after he sold his Cedar Rapids practice and retired.
"I have been proud to have a part of these fabulous organizations and hopefully I have been able to make a difference."
May 2021