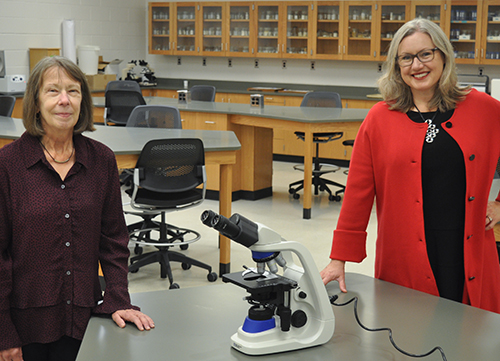 A trip back in time gave Dr. Amanda Fales-Williams the inspiration on how to utilize the funds of the Tyrone D. Artz M.D. Chair for Teaching Excellence.
For Dr. Claire Andreasen, the Dr. Roger and Marilyn Mahr Professorship in One Health provided the opportunity to make sure College of Veterinary Medicine would have the necessary funding to conduct research related to One Health.
Both Fales-Williams and Andreasen could have used the proceeds from their named faculty positions to attend a cutting-edge conference or buy the newest teaching technology.
Instead, they decided to pay it forward and assist students.
"A long time ago, when I was a resident in the department (Veterinary Pathology), there was a state-supported line that paid the salaries of the residents," Fales-Williams said.
"Over the years, those funds have been eliminated, making it hard to sustain the combined residency/PhD program. Though we have a strong program and great training resources, stipend support is hard to find."
With no sustained line of funding, Fales-Williams saw an opportunity when she became the Tyrone D. Artz M.D. Chair for Teaching Excellence. She decided it was important to fund the veterinary pathologists of the future.
Currently, the funding is supporting two residents – Drs. Belen Hernandez and Lisa Uhl. The pair are each working towards a PhD in the five-year residency program where they assist veterinary pathology faculty in classroom instruction.
"I could have bought myself a really cool microscope camera and other technology that might only last five, maybe seven years," Fales-Williams said. "The best way for me to contribute to the profession, to help change the world, is through our residents and their future students."
"I wanted to do something with the funding that would last forever and I can't think of anything better than these two outstanding clinicians."
While Fales-Williams looked back to her own experiences to determine how to use the money, Andreasen did a little investigating when she was named the Mahr Professor in One Health. She spoke to colleagues and academic administrators to find the perfect fit for the funds.
"I wanted to leverage the money as much as I could," Andreasen said, "and distribute it to many different projects."
The Mahr Professor in One Health is now providing seed grants to students engaged in projects based on One Health with seven research projects conducted in the College of Veterinary Medicine. The projects have been funded in the One Health area which explores the interconnection of animal, human and environmental health.
Several of these projects also partner with Iowa State's National Institute of Antimicrobial Resistance Research and Education (NIAMREE).
"The object is for veterinary students learn more about research and to collect data so these researchers can use that information to get further funding down the road," Andreasen said. "No matter which career path veterinary students take, they will need to analyze new research results, tests and data during their entire career.
"It's been a good decision. We're already seeing some of these research projects getting additional funding to find the answers to problems we are trying to solve."