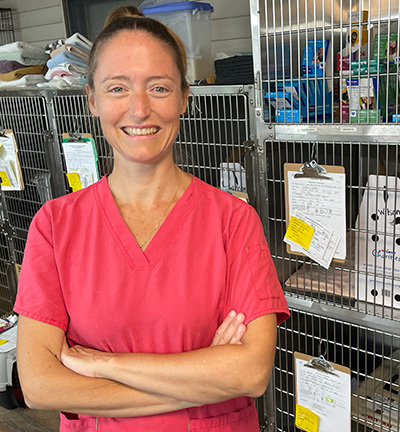 The Atlantic County Society for the Prevention of Cruelty to Animals (ACSPCA) Veterinary Clinic isn't about bells and whistles.
The clinic outside of Atlantic City, New Jersey, is bare bones. The structure is a one-bedroom house that has been retrofitted to be a vet clinic two days a week.
"We definitely operate with very low overhead," said Dr. Suzanna Vaino ('03), ACSPCA's medical director. "We're volunteer-based, keep minimal inventory, and use simple in-house diagnostic testing. Bells and whistles are nice to have, but you can get the job started without them. Thankfully, Iowa State taught me the importance of the physical exam, and I never forgot that.
"We're back to the basics here. We're ultra-low cost, just enough to keep the lights on."
And that suits the Atlantic County native just fine, especially since the ACSPCA offers ultra-low-cost, full-service veterinary medical services including surgery and dentistry.
"We are not simply a 'discount veterinary clinic,'" Vaino says. "Our clinic serves exclusively low-income and indigent pet owners so we can help them keep their pets healthy despite the financial limitations they are facing.
"This prevents financial euthanasia and pet relinquishment to shelters due to lack of financial means."
Every Tuesday, Vaino goes to the ACSPCA clinic where she works in a tiny surgical suite for eight hours. She and her vet tech average about 22 cat spays and neuters in a day. Some Tuesdays she will do dental work and soft tissue surgery.
Fridays are set aside for wellness care, sick visits, and pre-surgery exams.
"There is a huge need in Atlantic County for this type of service," Vaino said. "Enabling people to pay for their veterinary care, even at our low costs, can be satisfying for many. Our clients want to know they can provide for their pets."
After graduating from Iowa State, Vaino moved back to her hometown and eventually started her own veterinary practice, which she operated for eight years. Today, in addition to serving as the ACSPCA's medical director, she is a staff surgeon at the Atlantic County Animal Shelter.
She also owns and operates Doorway to Heaven, an at-home euthanasia service.
"I began to notice some potential shortcomings in the ways in which we approach end-of-life care in our pets," Vaino said. "I wanted to be able to slow down and be there for our patients and their families who are going through this final and very important life stage."
That human-animal bond is important to Vaino.
"I consider access to veterinary care to be a social justice issue," she said. "I believe in the benefits of the human-animal bond and think everyone should be able to own a pet and keep it healthy, no matter how much money they have.
"Often times the ACSPCA is a pet owner's last hope."