Gratitude, Service and Responsibility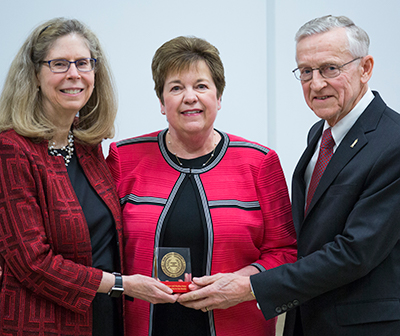 The College of Veterinary Medicine has long been a part of Roger and Marilyn Mahr's lives. In a way, it was what brought the couple together.
During the summer at the beginning of his fourth year as a veterinary student, like his fellow students, Roger was required to do a six-week externship in a veterinary practice away from the Iowa State campus. Having been raised on a dairy farm near Indianola, Iowa, with caring parents and three older brothers, all of whom were engaged as a family in 4-H and FA, Roger's primary work had been with large animals. Therefore, he sought an externship that would provide him experience in a small animal practice.
That search led him to a small animal practice in Sterling, Illinois, owned by Dr. Wayne Fawver, a 1965 Iowa State DVM graduate.
"After a great practical experience in small animal medicine and surgery, I decided I wanted to become a small animal practitioner upon graduation," Roger said.
But that wasn't the only life-altering occurrence to happen during the externship. Near the end of his time in Sterling, Roger and Marilyn went on a blind date.
"Dr. Fawver's mother and my mother worked for the same physician and they thought we should meet each other," Marilyn recalled.
Two years later the couple married and have lived a life both called "a team effort." In 1974, they established the Meadow View Veterinary Clinic in Geneva, Illinois, a small animal practice Roger owned and directed for 31 years. Marilyn served as office manager of the practice.
It was his time as a veterinary student at Iowa State that formed not only the foundation for Roger's career, but the basis for his outlook on life – gratitude, service and responsibility. He served as the president of the American Veterinary Medical Association in 2006-07 and put forth the vision for the development of the One Health initiative. He then served five years as chief executive officer of the One Health Commission, which was headquartered at Iowa State from 2011-13.
He's particularly proud of the One Health initiative activities at his alma mater, beginning during the tenure of Dean John Thomson. Iowa State's One Health Lectureship in the college was established by Roger's brother Larry (DVM '66) and his wife Barbara. The lectureship honors Roger and Larry's late wife Donna (BS history '65).
To date, the One Health Lectureship Series has brought seven world renowned individuals to campus to discuss various One Health topics.
In April 2017, the Dr. Roger and Marilyn Mahr Professorship in One Health was established by the couple and a year later, Dr. Claire Andreasen became the first holder of this distinguished academic position.
"It is a sense of responsibility to the future, preceded by our deep gratitude for the past, which provided Marilyn and me with our inspiration to establish this professorship," Roger said.
And while it's been 47 years since he graduated with his DVM, Roger and Marilyn continued to be active with the College of Veterinary Medicine. The couple have served on the college's Campaign Committee for the two most recent capital campaigns including the current "Forever True, For Iowa State."
"For Roger and me our greatest rewards during our career and lifetime of service have been the personal relationships made with colleagues and friends around the world," Marilyn said "This has certainly been the case as we engage within the meetings and activities related to the Campaign Committee."
For Roger, the life principles he learned as a young veterinary student – gratitude, service and responsibility – are why he volunteers.
"I believe it is most fitting as Iowa State alumni to reflect and honor the great heritage of our university and our respective colleges," Roger said. "I am so proud of the legacy of the College of Veterinary Medicine and shall forever carry the Gentle Doctor firmly embedded within my heart.
"I have also always believed it is more important to look to the future. It is that sense of responsibility to the future which I acquired here at Iowa State which has provided me with needed inspiration to pursue my life's vision and goals."
October 2018