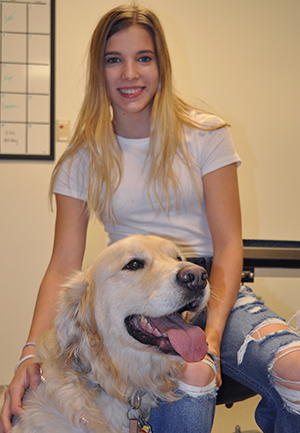 Meet Bentley – Blood Donor
Bentley is a regular contributor to the Hixson-Lied Small Animal Hospital.
His contributions are not monetary but rather of the liquid kind.
Since June 2016, Bentley, a four-year-old golden retriever, has been a contributor to the Blood Donor Program in Iowa State University's College of Veterinary Medicine. Every other month, Bentley and his owners, Kristi Schaben and her daughter Sammi, come to the small animal hospital so that he can donate blood for dogs who require a blood transfusion.
"I am a blood donor so when I saw the call for dog and cat blood donors I started to see what we could do," Kristi said. "I thought it was cool that we lived in a town that had this as an option to help other fur babies."
Iowa State began the volunteer blood bank in 1998 with student, staff and community volunteer donors. Currently there are 19 dogs and 11 cats enrolled.
"We are always looking for community members to volunteer their pets as donors," said Amy Hodnefield, veterinary technician.
Dogs and cats participating in the program receive food and routine veterinary care including vaccinations and flea and tick prevention, routine physical examinations and lab work.
Donated blood is used for hospitalized dogs and cats that are patients in the Hixson-Lied Small Animal Hospital. This could include trauma cases, surgery, exposure to toxins and anemia.
"It is essential to maintain both an adequate and safe blood supply at our hospital," said Dr. Dana LeVine, associate professor of veterinary clinical sciences. "We often have dogs and cats that are in emergent need of blood and without a ready source of blood in the hospital, these patients would not survive.
"It's also important that we screen our donors for infectious diseases so we ensure our blood supply is not infected with any blood borne parasite. We extensively screen our donors for infectious agents."
Like humans, dogs and cats have different blood types. In fact while there is one principal blood type in dogs that should be typed for prior to transfusions, there are at least 13 other dog blood types. Cats only have three main blood types but there is no universal cat donor.
That's why donors like Bentley are so important. And sometimes Bentley has been called to give more than just his blood.
"Bentley has been called in twice to give blood in emergencies," Kristi Schaben said. "One time after he was finished donating, we were asked if Bentley could sit with the family whose dog was in surgery awaiting Bentley's blood.
"We were out of town and wouldn't be back right away to get him so it worked out wonderfully for us to know he was also giving some love to the family that was waiting to hear about their fur baby."
January 2020