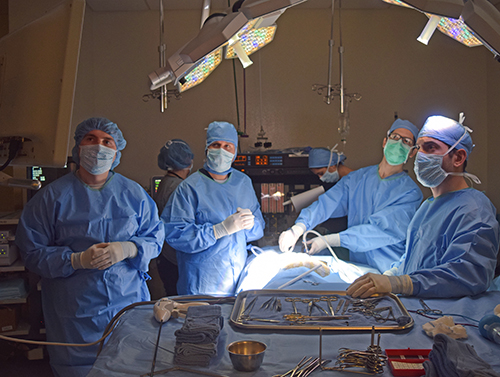 In the matter of days everything changed with little, if any, advanced warning.
Such is the case with the College of Veterinary Medicine's 4th year surgical rotation. When Iowa State University went to only online, virtual learning, it became imperative for clinicians in the small animal hospital to replicate a hands-on experience to a totally virtual one.
And they had to do it on the fly.
What has emerged is a quick and meaningful adaptation to the online environment.
Before the COVID-19 pandemic forced Iowa State to move all classes online, 4th year vet students would observe in-person surgical procedures during their two-week surgical rotation. Currently the Lloyd Veterinary Medical Center is only seeing patients when it is critical to the health of the animal.
Today students are able to observe the surgery online thanks to cameras that had previously been installed in the surgical suite.
"When we were approached about live streaming in the wake of the online instruction, we were able to demo how the streaming would work, and it then showed how valuable this resource could be especially in the current situation," said Deb Hoyt, the college's instructional development coordinator.
Hoyt, along with Jeremy Kellen, systems support specialist, worked to utilize two other cameras scheduled to be placed elsewhere in the college, and quickly installed them in the surgical suite.
The innovation didn't end with the technology. As the fourth-year students observe live streaming from the surgical suite, the video is complemented with live commentary from a professor who is also observing the procedure online.
"I have been able to watch the surgeries with the students and give commentary," said Dr. Karl Kraus, professor of veterinary clinical sciences. "This does not always happen in surgery as it is distracting to the surgeon. The students can ask questions without hesitation."
"Getting commentary and being able to ask questions during live stream surgeries will be very helpful for getting us oriented to understand exactly what the surgeons are seeing and doing," said Cassie Hilbrands, a fourth-year vet student. "Anyone can read how to do these procedures in a textbook, but to see it performed and have it explained at the same time will be very valuable for our learning."
Still the hands-on experiences that comes naturally with clinical rotations are out the window for the time being. And it's not just dealing with animals.
"With rotations moving to virtual learning, we are obviously missing out on the hands-on learning, the physical exams, the live tissue handling, the patient care, but we're also missing out on communicating with clients, which is just as important as the physical aspects of our training," Hilbrands said. "The circumstances are less than ideal, but I have been so impressed to see how faculty members in all departments are getting creative and going above and beyond to come up with new teaching strategies.
"This isn't an easy transition for anyone but knowing that the faculty members and clinicians in the College of Veterinary Medicine are making our education a priority definitely helps moving forward."
March 2020