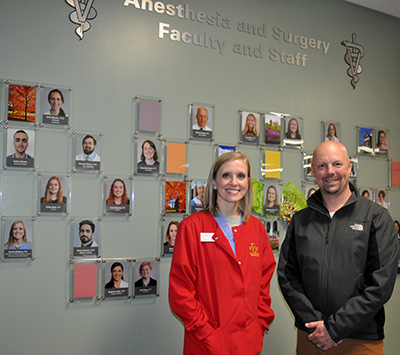 A New Environment
Amelia Dohlman was looking to create a more welcoming environment to the Anesthesia Suite in the Hixson-Lied Small Animal Hospital.
And with assistance from the College of Design, she has more than achieved her goal.
"We wanted to change the space to enhance the learning and working environment," said Dohlman, the Hixson-Lied manager of clinical support. "There was no personality in this area and there was no recognizable trait to this service."
Dohlman reached out to the College of Design and Cameron Campbell, associate professor of architecture. Campbell says College of Design students work with units throughout campus including previous projects with the College of Veterinary Medicine.
"Student projects obviously can't be at a scale much larger than what we did on this project because of liability, sophistication, time that students have, cost, and experience, but what we can provide is some beginning ideas to help with fundraising and early thoughts about what is possible," Campbell said.
"All parties win in this scenario because students gain valuable experience in actual situations and whomever we work with gets the creativity and basic services we can offer."
For the Anesthesia Suite, senior architecture student Allison Morgan was selected. Morgan met with Dohlman, developed the design, and helped find materials and specify colors.
"Amelia and Brian (Adams) were great partners in the process because they were very hands-on and engaged the application of Allison's design," Campbell said.
That design included adding wall color, signage, and images to several rooms in the anesthesia area including the rounds room, induction space, technician office, recovery room, and cleaning room.
"Allison and I met frequently, and she was an absolute delight to work with," Dohlman said. "If I ran into a reason why a certain element would not work, she would work to find a solution or alternative route."
"I did research on the effect that color has on humans and small animals alike," Morgan said. "I found a color palette with commons colors that people, dogs, and cats all find calming and soothing.
"Natural materials such as woods and stones also provide a calming effect on patients for healing, which is how I decided to incorporate organic material into the design."
Still, this wasn't a simple design. Morgan created a unique way to present the service's faculty and staff photos which required drilling 200 holes to hang all the frames.
"That was challenging to make it come to fruition," Dohlman said, "It is an aspect to the project that is not only eye-catching, but allows us to interact with the staff by celebrating birthdays and career anniversaries."
This may have been the most challenging aspect of the suite's redesign, but Dohlman's favorite part was the simple act of repainting the walls. Campbell agrees.
"A quality environment is better for both the patient and the caregiver," he said. "Living and working in a windowless space all day is not healthy, so giving a sense of light like Allison did with the new paint can improve outcomes for all parties."
Ironically, Morgan almost missed out on the project. She's an introvert and her boyfriend (now husband) actually gave her the push she needed to seek out the project.
"This project was one of my greatest achievements in my college career and ended up being something I'm incredibly proud of," Morgan said. "This project reminded me of why I do what I do – making people happy and enriching their lives through design."
April 2023