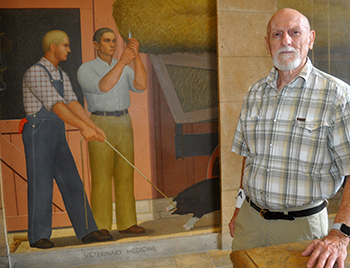 In the History Books
It's fitting Dr. Norm Cheville lives in the section of Ames where all the streets are named for U.S. presidents.
A self-described history buff, Cheville is an avid reader of history, particularly the presidencies of Theodore and Franklin Roosevelt. But no, he doesn't live on Roosevelt Street in Ames.
Now the retired dean of Iowa State's College of Veterinary Medicine is combining his love (and knowledge) of veterinary medicine with his history background to write a new book.
Science, Disease and Culture: How Veterinary Medicine Evolved in the American Midwest takes a look at how veterinary medical college's financial health ebbed and flowed with the changing fortunes of the American economy.
"I was fascinated at how veterinary schools prospered or not due to the economic conditions of the times," Cheville said.
Cheville's book focuses primarily on veterinary medicine at Iowa State and the state of Iowa. In fact, he starts his story in 1860 in a rural Iowa in Eden Township (present day Rhodes, Iowa). Not ironically, Eden Township is where Cheville grew up and where a small-town veterinarian was practicing.
During his research for the book, Cheville discovered several interesting facts. For instance, a nation-wide depression in the late 1890s resulted in no veterinary graduates at both Iowa State and the University of Pennsylvania.
Veterinary schools also saw drastic enrollment declines when the automobile was invented.
"When the horse population was dramatically altered, you can clearly see where the number of students enrolling in veterinary schools also dropped dramatically," Cheville said. "Young men didn't see a future in the veterinary profession."
Cheville, who served as dean at Iowa State from 2000-2004, also explores the gender issue in the veterinary profession, the advent of military veterinarians and touches on the bias of the eastern veterinary profession in his book.
"At one point there was only one veterinary journal being published and it effectively ignored everything that was happening in the profession west of the Appalachians," he said.
Cheville hopes to finish his book and have it published in the next year.   
"I really enjoy writing and my daughter (a English professor at the University of Maine) encouraged me to write about this subject because it's one I'm familiar with," he said.
"Plus, I'm an historian at heart."
October 2018