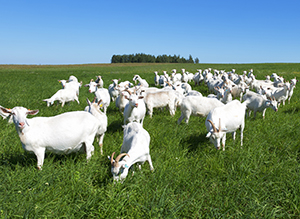 You can usually find Dr. Pat Gorden on a dairy farm assuring that dairy cows get the finest veterinary care available. Recently however the associate professor of veterinary diagnostic and production animal medicine's focus has shifted to include dairy goat milk production.
Gorden and his colleagues have received a grant just shy of $1 million from the USDA-National Institute of Food and Agriculture to look at improving antibiotic stewardship in dairy goats to assure food safety and milk quality.
Focusing on dairy goat health is necessary due to how popular dairy goat production has become in recent years.
"Dairy goat milk production is currently the fastest growing animal production sector in the United States," Gorden said.
The USDA reports there are currently 440,000 does and kids in the country with Wisconsin and Iowa being first and third in total numbers repectively. California is the nation's second largest home to dairy goats and Gorden's research team is collaborating with Dr. Rosie Busch from the University of California-Davis on this study.
One of the biggest health issues facing dairy goats is subclinical mastitis. Gorden says studies indicate that around 30 percent of dairy goats will have an intramammary infection, although he believes that number to be on the low side.
"The biggest issue with treatment of minor species, like dairy goats, is the lack of antibiotics and other drugs labeled for goats," Gorden said. "To combat mastitis, goat producers have to use intramammary products labeled for dairy cattle, which are a lot larger than what may be necessary in goats.
"Producers have concerns about drug residue depletion in milk and meat after using cow products in goats."
Gorden acknowledges he isn't a "goat guy" but what he is interested in is milk quality, both from a microbiology and drug residue standpoint. That interest led him to study drug withdrawal times, efficacy of using cow products in goats and finally the effect on antimicrobial resistance development.
There will also be a little learning curve as Gorden starts studying dairy goats, which have few similarities with their dairy counterparts. "While they both produce milk, the mammary secretion systems are different so small particles in goat milk that are considered normal are much higher in goats than cows," he said. "The milking systems are different as well."
In this study, Gorden also plans to work with extension services in Iowa and California to create a producer education program towards improvement of milk quality while minimizing antimicrobial resistance development.
December 2020