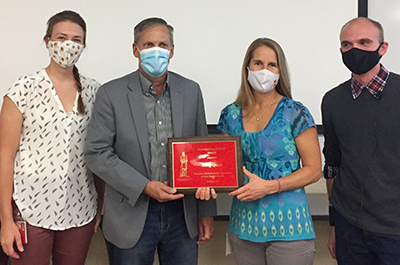 When Caitlin Knutson learned of a new award offered by the Veterinary Medical Alumni Association (VMAA) she immediately knew whom to nominate.
"I've known Dr. Quam my entire life," the second-year veterinary student said. "He has been our family veterinarian ever since he started working in our local vet clinic."
Dr. Doug Quam ('89) is the inaugural recipient of the Outstanding Mentor Award from the VMAA. The award recognizes an Iowa State College of Veterinary Medicine graduate who has encouraged and supported one or more students of veterinary medicine in their personal and professional development. "Not only is Dr. Quam a great veterinarian and community member, but also a great mentor to me and other Iowa State students," Knutson said. "He is very willing to talk about any topic and answer any questions I have, let me observe a lot of procedures, and helps me build up my hands-on experience to prepare me for veterinary school."
Knutson says she initially interacted with Quam at the Midwest Vet Clinic in Hubbard whenever he visited her family farm.
"I was always very curious as to what he was doing or what tools and medications he was using to get his job done," she said. "As a kid, I felt pretty special when he would take time to explain the medication or show me what the problem was and how he was going to fix it."
These days, Knutson's interaction with Quam is even more than that. She uses him as a resource in both academics and in building confidence and skill sets as she moves through the veterinary medicine curriculum.
The ability to observe Quam in a veterinary setting has also proved invaluable. This past summer Knutson worked for Quam at his vet clinic and was able to watch surgeries and other procedures.
"Being able to observe procedures in a real world setting is incredibly valuable to me as I am an experiential learner," Knutson said. "Not only do I get to see how tasks are actually done, but I can also review things I have already learned as we go along."
Knutson said having a mentor has been both important and beneficial.
"I feel comfortable enough asking Dr. Quam anything about school, work or life and know he will try to provide an unfiltered answer that is rooted in experience and understanding," she said. "It is also nice to get the perspective of someone in practice on what skills I really need to start working on right now in order to be better prepared for my future job.
"He has opened my eyes to certain aspects of the profession, and I feel more goal oriented now by having him as a mentor because he encourages me."