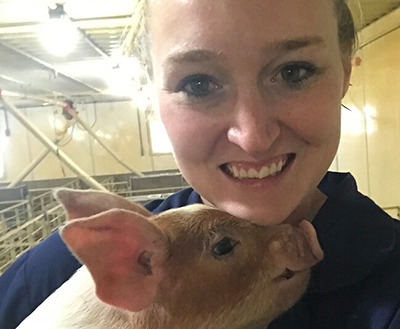 Reprinted from Farm Journal's Pork
Meet Kimberlee Baker, an award-winning young leader in the pork industry who combines innovative thought and work ethic with scientific savvy and a passion for swine veterinary medicine. 
Age: 26
Hometown: Stillman Valley, Illinois
Education: BS in animal science, Iowa State University; currently in her third year as a veterinary student at Iowa State University's College of Veterinary Medicine
Q. What is your background in the swine industry?
A. Completing Dr. Tom Baas' swine science course during my freshman year at Iowa State caused me to think about a future in the swine industry. Prior to that class, I had no exposure to the commercial swine industry. That course, and his guidance, gave me the courage to seek out an internship in swine production for the following summer. After spending a summer working on sow farms and finishers as a swine production intern for Carthage Veterinary Services, I was convinced that I had found my true passion in swine veterinary medicine.
Q. Tell us about your internship experiences.
A. I spent a summer as a swine production intern with Carthage Veterinary Services where I gained experience in day-to-day pig care and management on both the breeding herd and wean-to-market aspects of production. I spent this past summer as a swine veterinary intern for The Hanor Company. I was able to put all of my book knowledge from school into practice caring for the health of growing pigs across Iowa and discovered that I really enjoy working on the health and management challenges associated with the wean-to-market stages of production.
Q. Did you take part in undergraduate research?
A. I worked for Dr. Derald Holtkamp as an undergraduate research assistant at Iowa State. I assisted with multiple research projects evaluating various disinfectants for efficacy against porcine epidemic diarrhea virus (PEDV), literature reviews on the efficacy of porcine reproductive and respiratory syndrome virus (PRRSV) vaccines, and collecting observational data for the PRRSV Outbreak Investigation Program.
Q. What other learning opportunities have you been involved in?
A. While working for Dr. Holtkamp, I also helped develop materials for and coordinated the PRRSV Outbreak Investigation Program with goals of developing a more standardized method of conducting epidemiological investigations to help the industry "learn from our mistakes" while helping swine producers and veterinarians identify gaps in their biosecurity practices that make them vulnerable to PRRSV. I have a passion for outbreak investigations and hope to apply these skills in my future position.
Q. Tell us about your current research.
A. During my internship with The Hanor Company, I studied the effect of pooling oral fluid samples on the sensitivity of PRRSV detection by quantitative PCR. My results showed that when there was a high amount of PRRSV in a population of pigs (Ct Value of non-pooled samples 34), the sensitivity of detecting the virus in pooled oral fluids is very poor.
If swine veterinarians wish to pool oral fluid samples to save money on diagnostic costs, they need to carefully consider two things: 1. Level of PRRSV load they expect in the population and 2. Cost of a false-negative test result (cost of missing a PRRSV positive sample). In general, my study demonstrated that if the expected PRRSV load is high and the cost of a false-negative is low, oral fluids can be pooled. On the other hand, if the expected PRRSV load is low and the cost of a false-negative test result is high, oral fluids should not be pooled.
March 2019