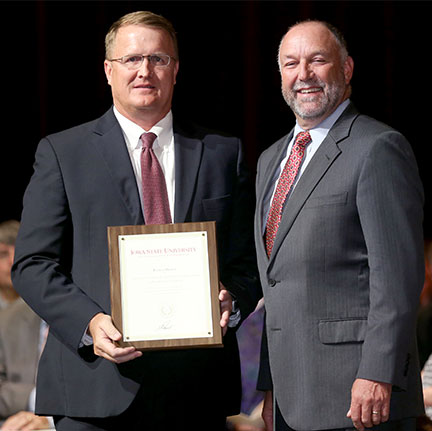 Making Discoveries
The name on the award says "Dr. Patrick Halbur" but the professor and chair of the Department of Veterinary Diagnostic and Production Animal Medicine, is quick to point out the help he has had along his journey to the award.
"I have been very fortunate to spend much of my academic career in what is now considered perhaps the pre-eminent food animal focused diagnostic laboratory in the world. The ISU Veterinary Diagnostic Laboratory attracts these great cases from livestock and poultry producers across the US," said Dr. Halbur, who also serves as the VDL executive director. "Faculty in these units such as myself have tremendous opportunities for discovery."
Dr. Halbur was recently named a fellow of the National Academy of Inventors, a nonprofit organization that recognizes inventors with U.S. patents. Election to NAI fellow status is a high professional distinction accorded to academic inventors who have demonstrated prolific innovation in creating or facilitating outstanding inventions that have made a tangible impact on quality of life, economic development and the welfare of society.
Halbur, who was also recently recognized with the Iowa State University Award for Achievement in Intellectual Property for his research productivity and service to the university and his contributions to advances in biopharmaceticals and animal health. He and his collaborators have made significant contributions to the understanding of several pig pathogens, including circovirus, hepatitis E virus, and porcine reproductive and respiratory syndrome virus (PRRSV).
Halbur has 14 patents, including one related to a vaccine on the market to control porcine circovirus.
Halbur said the Veterinary Diagnostics Laboratory receives more than 85,000 cases from across the country every year, leading to opportunities to make new advances.
"When gaps are identified in the investigations, we have the multidisciplinary teams in place to quickly go into discovery and innovation mode to identify the cause and develop intervention and control strategies," he said. "I get great satisfaction from facilitating opportunities for our faculty to be involved in the discovery and innovation process, which is so critical to the future sustainability of Iowa and U.S. animal agriculture."
Since 1992, he has disclosed nearly a dozen technologies to the ISU Research Foundation. These discoveries have the potential to improve the health of pigs as well as the profitability of pork producers through improved diagnostics, vaccines and better understanding of established and emerging porcine pathogens.
Perhaps Dr. Halbur's most important discovery came when his team, which included a colleague Dr. XJ Meng from Virginia Tech University, used molecular virology techniques to develop an infectious clone of porcine circovirus and infected pigs with the clone to establish a model and advance understanding of an emerging disease that was causing devastating losses for the swine industry.
"This work allowed us to clearly establish that porcine circovirus type 2 induced the hallmark lymphoid lesions and respiratory, systemic and reproductive diseases that are now referred to as porcine circovirus associated diseases (PCVAD)," he said. "Although many peers across the world doubted the association of porcine circovirus with disease, our model was clear and we doggedly stuck with it."
The team's persistence paid off. After developing the vaccine, Dr. Halbur and his colleagues received a patent and eventually licensed the vaccine with a global veterinary health company. Worldwide royalties have exceeded $1 million.
"Porcine circovirus vaccines are now the most widely used pig vaccines in the United States and perhaps globally," Dr. Halbur said. "The swine industry has widely adopted the use of circovirus vaccines because they improve the health and welfare of pigs and are very cost effective."
Dr. Halbur says that high quality service and outreach units such as the VDL that are closely connected to and are essential part of the ongoing success of Iowa's agriculture industry as part of the university facilitates opportunities for discoveries that have immediate and substantial impact on industries critical to the economic success of Iowa.
"If a new disease shows up, Iowa State is now prepared to be the group to recognize it first and then find the solution," Dr. Halbur said. "We have the infrastructure and most importantly, the people in place to make this happen."
November 2016