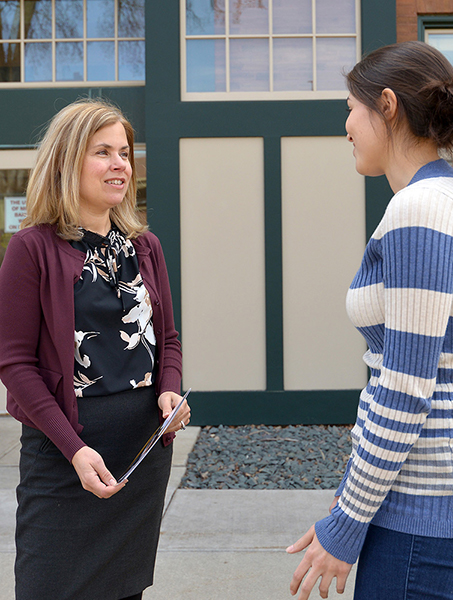 "I never aspired to be a dean," said Dr. Laura Molgaard ('91).
But when the Provost at the University of Minnesota called Molgaard into her office, the long-time faculty member at Minnesota's College of Veterinary Medicine didn't hesitate.
"I was honored and surprised when I was asked to serve as interim dean," Molgaard said, "and I decided to take that next step."
Molgaard joined Minnesota's faculty in 1997 serving as a clinical instructor in the Department of Veterinary Clinical Sciences. Four years later she was named the college's associate dean for academic and student affairs, a post she held until her appointment as interim dean.
While at Minnesota, Molgaard has had a long-standing role in the American Association of Veterinary Medical Colleges (AAVMC). She co-led a working group for competency-based veterinary education modeled on the structure used in human medical training.
These efforts have had a significant impact on education in the veterinary profession.
She says her involvement in these areas and in academic and student affairs helped prepare her for her current position.
"Being an associate dean is surprisingly good training to be a dean," she said, "especially when it comes time to interact with our stakeholders. The first thing they ask about is classroom instruction and our students. My background in those areas made it easy for me to have those conversations.
"I had worked with our former dean for many years and that also prepared me to really step into the role and be on the hot seat."
Molgaard will admit there were vast learning curves in aspects of the job, especially in the complex areas of the business of running a teaching hospital and the veterinary diagnostic laboratory. There have been numerous other surprises and challenges.
COVID-19 is chief among them.
Molgaard was six months into her tenure as interim dean when the University of Minnesota went to working from home. The teaching hospital saw emergency patients only. Like a majority of her fellow administrators and staff members, Molgaard hasn't been in her office for months.
"Those of us who can work from home have been," she said in a recent Zoom call. "I have been at my home office for 365 days now."
Instead of sitting across a conference table from colleagues, Molgaard now says she's in Zoom meetings 10 hours a day. But just like being prepared to be an interim dean, she was also a step ahead of most of us when it comes to Zoom meetings.
In 2018 she became the first representative from veterinary education to be invited to serve on the International Competency-Based Medical Education Collaborators. This effort includes educators around the globe and even back then meetings were conducted online.
"My life was made easier when we went remote with COVID because I was very familiar with leading teams via Zoom and WebEx," Molgaard said.
Minnesota's College of Veterinary Medicine has quickly ramped up clinical rotations for their students. In-person labs are also being held.
But one thing Molgaard has missed during the pandemic is the one-on-one interaction she had with faculty, staff and students which isn't as convenient virtually.
"One of the things I miss most is the casual conversations I would have in the hallway," she said. "Now everything is so much more structured.
"I don't have the opportunity where I can just pop down the hall and speak to someone."
Throughout her career, Molgaard has worked closely with students. With COVID restrictions she doesn't have that opportunity. It's one of the things she has been planning for once things return to normal.
"This won't be an all or nothing switch," she said. "We are looking at a staged plan to increase our on-campus presence, but I hope to be able to celebrate with our students soon."
May 2021