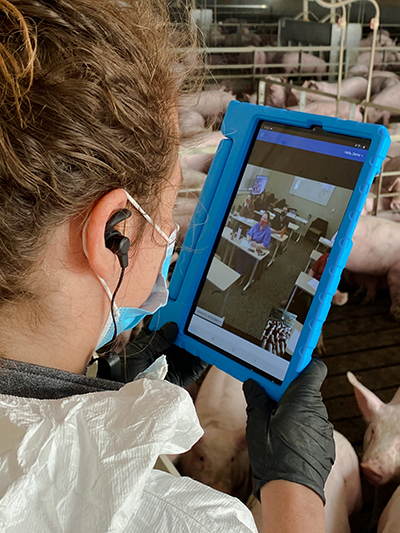 When COVID-19 prompted the College of Veterinary Medicine to move its courses on-line last spring, faculty moved quickly to make that a reality.
Faculty and staff in the Swine Medicine Education Center (SMEC) were no different but they had known moving virtually was a possibility, COVID-19 or no COVID-19.
"Teaching clinical swine medicine to fourth year veterinary students is challenging in normal times," said Dr. Locke Karriker, the Dr. Douglas and Ann Gustafson Professor for Teaching Excellence in Veterinary Medicine and SMEC director. "Livestock producers and their veterinarians are increasingly worried about biosecurity and are more and more reluctant about allowing us to bring students to their farms."
SMEC were already looking for ways to meet this challenge. So, when COVID-19 forced the change to virtual learning, it was the perfect opportunity for the faculty and staff in SMEC to become a leader in perfecting remote instruction for clinical teaching by testing ideas they had been considering.
The team quickly created an online learning platform and digital library through a Moodle resource shared with the Center for Food Security and Public Health. Dubbed internally as the "Pigipedia," it was offered to students and veterinarians and houses swine specific resources, training materials and educational videos on nearly every medical technique that would be required for swine practice.
SMEC veterinarians also conducted farm visits where they captured live visits and then reviewed them during clinical swine medicine rotations with their students. They brought out the best student and faculty case presentations from previous years' rotations to provide case context as well.
This was all made possible because SMEC was already working with VetNOW, a leader in telemedicine for companion animals, and beginning a USDA Higher Education Challenge Grant. SMEC wanted to introduce telemedicine to broaden access to food animal veterinarians in underserved areas of the United States.
"We reached out to VetNOW and proposed to accelerate the collaboration to meet the immediate need of virtual remote teaching of clinical medicine to veterinary students," Karriker said. "VetNOW needed a partner to help them adopt their telemedicine platform used for small animal hospitals and practices for use in large animal practices and herd investigations.
"The COVID-19 lockdown provided the perfect opportunity for us to lead and accelerate this process."
Working with VetNOW, SMEC piloted utilization of the company's platform in a student rotation to provide farm tours, observe clinical signs in animals, and evaluate equipment. The result allowed students to "conduct" a herd visit and capture it all in a medical record. By moving to this virtual approach, students on swine production medicine rotations are now able to "visit" four different swine farms in a single day. This would not have been possible even pre-COVID due to biosecurity protocols and time constraints. The program has been such a success that faculty in other on-farm rotations in the College of Veterinary Medicine are considering telemedicine for clinical instruction and service delivery.
"Many veterinary colleges simply cancelled the on-farm food animal rotations because of COVID-19 and fell back to the safe alternative of doing the best they could to teach the essential material through Power Point and other methods," Karriker said. "COVID-19 accelerated our efforts to bring even more experiences and value to our fourth-year veterinary students."
Karriker and the SMEC team were recently honored by Iowa State with a COVID-19 Exceptional Effort Award for "excellence in remote instruction."
March 2021