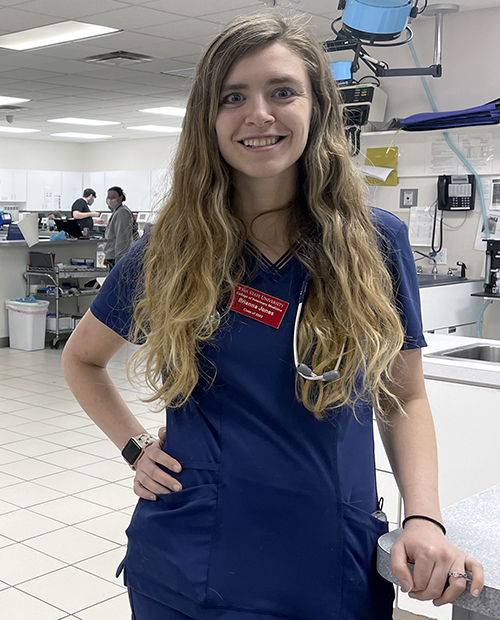 After spending most of her fourth-year in veterinary school in clinical rotations in the Lloyd Veterinary Medical Center, Brianna Jones was highly anticipating her two-week turn at Iowa Veterinary Specialties.
She hasn't been disappointed.
Jones recently completed a preceptorship at the Des Moines 24/7 emergency hospital which is affiliated with Iowa State University. Her experience was different from the rotations she had at the Lloyd Veterinary Medical Center where she worked in a specialty area.
One day she was assisting in surgery. The next she was in oncology. She examined a rat with a tumor. She spent hours working on emergencies.
She has a special interest in ultrasounds and IVS accommodated that interest and so many more.
"The doctors brought in their own dogs to show me acupuncture treatments and to practice doing an ultrasound," Jones said.
Even when Jones was in focused on oncology for a few days, the experience was different. That is by design, according to Dr. Angie Gearhart, the medical director at IVS.
"We specifically schedule our students' schedule to have a little variety," Gearhart said. "We don't just want it to be 'lymphoma day' all day long. We try to pick days that fit their interests so they can learn a little bit about everything."
Prior to Jones' arrival, Gearhart scheduled a Zoom meeting with her to learn of those interests. That is standard procedure with all Iowa State students who have completed preceptorships at IVS.
Jones is just the latest Iowa State vet student to complete an IVS preceptorship. Over the past two years, 15 different fourth-year students have worked at IVS with more still scheduled this year.
"I was hoping to see what it was like in the real world," Jones said. "I wanted to see things I would see in a general practice and I haven't been disappointed.
"The doctors at IVS have been really welcoming, asking me questions and my opinion on treatment options."
The hands-on experience she received earlier in her fourth year at the Lloyd Veterinary Medical Center have been enhanced by more touches at IVS. The interaction she has had with the clients has also proven invaluable.
"It's been a great experience," Jones said. "One of the things I've really appreciated was to see how the doctors work with clients in a general practice."
Her IVS experience was only her third rotation outside of the Lloyd Veterinary Medical Center. Her first preceptorship was at another emergency clinic in Des Moines at the beginning of her fourth year, followed later by a shelter medicine rotation in Kansas City.
Jones said the time she spent on clinics in Iowa State's hospitals helped her prepare for this general practice experience, one she hopes will carry over after graduation when she starts practicing at an Illinois small animal hospital.
"It's been a while since I've worked anywhere else so I was a little nervous my first day," she said. "But that time I spent on clinics at Iowa State proved so valuable. I know so much more now than I did during my first preceptorship.
"I've really noticed how much I have learned and improved since then."
February 2022