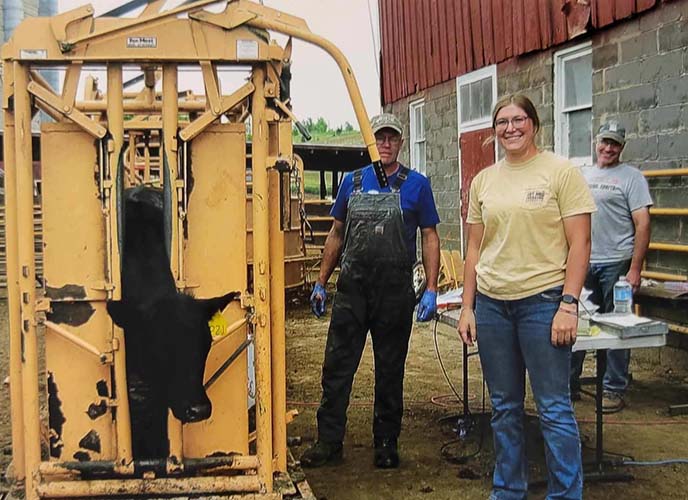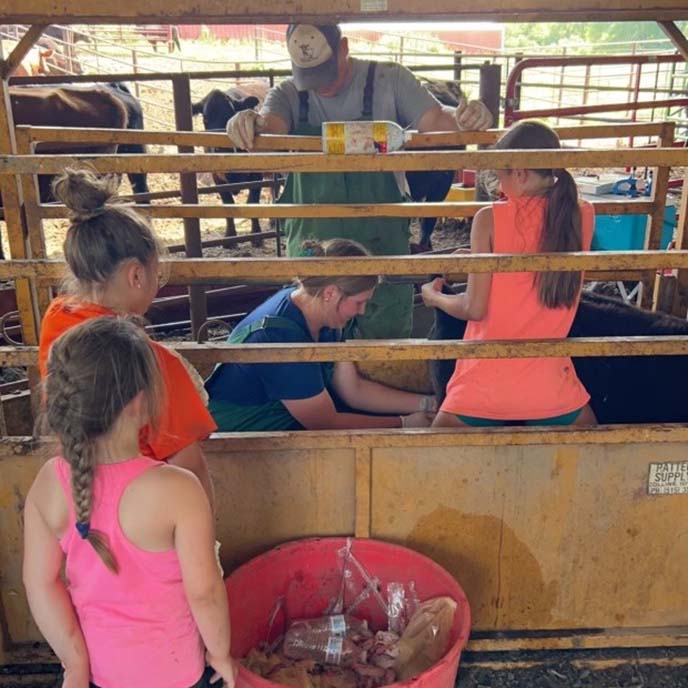 Third-year veterinary student Callie Henrich has a strong desire to return to her roots.
"I want to own my own clinic in the future," Henrich said, "and I believe that will be easier for me to accomplish in a rural setting."
Henrich is a native of Akron, Iowa, population 1,500. When an opportunity opened for her to participate in a new College of Veterinary Medicine internship program, she jumped at the chance.
Henrich was one of two veterinary students who spent the summer in the Rural Veterinary Internship Program (RVIP). Henrich was hosted by Dr. Shawn Nicholson at the Stuart Veterinary Clinic. Her classmate, McKayla DeNio, was hosted by Dr. Aubrey Cordray at the Humboldt Veterinary Clinic.
The program is designed to give students a feel for what life after graduation would be like in a rural veterinary clinic. It is modeled after other VIP programs the College of Veterinary Medicine offers in bovine, swine and poultry medicine.
The RVIP experience was Henrich's second summer veterinary internship program. Last summer she worked at a veterinary clinic in DeWitt, Iowa, as part of the Bovine Veterinary Internship Program.
Between the spring and fall semesters this year, Henrich was immersed into the operations at the Stuart Veterinary Clinic, a true mixed-animal practice. She did a lot of cattle work by going on countless farm calls.
But Henrich's summer was more than large animal medicine.
"I wanted more experience with small animals," she said, "and the RVIP experience in Stuart gave me a great opportunity to see how a small animal practice can be operated in a rural setting. It was interesting to see a true mixed animal practice.
"One day I would be helping process cattle and then the next I would be scrubbing into surgery or assisting with dental patients. I was able to do things I hadn't previously done before."
Besides hands-on experiences, Henrich also learned rural veterinary clinics can be just as progressive and innovative as their big city colleagues.
"I'm sure some rural practices have limited resources and equipment, but that wasn't the case in Stuart," she said. "It made me realize you can practice high-end veterinary medicine no matter where you are."
September 2023