Saving JuJu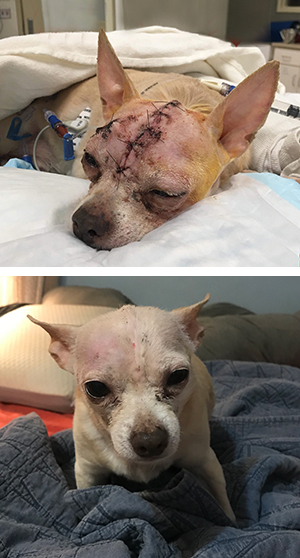 Hillary Clinton famously stated it takes a village to raise a child.
In the case of JuJu it took a team of dedicated professionals and committed owners to make sure the little chihuahua pulled through brain surgery and his recovery.
"JuJu survived brain surgery because of a group of people who showed how love and kindness are the greatest gifts," said Kari Camenisch of Ames and one of JuJu's owners.
On Nov. 10, JuJu suffered a wound to his head that resulted in a skull fracture. CT scans confirmed fragments went through the little dog's skull and into his brain, leaving fragments of bone in its wake.
JuJu was brought to the Hixson-Lied Small Animal Hospital at Iowa State University where he was stabilized by controlling his seizures and bringing down the pressure in his brain. Because brain surgery is so dangerous, it was initially ruled out and JuJu was sent home after clinically improving.
Iowa State veterinarians cautioned JuJu's owners that an infection could set in and to keep a close eye on him.
"We got JuJu home and he quickly deteriorated over the next 24 hours," said Jason Quinn, another of JuJu's owners. "He started to have seizures again and as time went on we knew we were going to have major problems."
JuJu returned to the Hixson-Lied Small Animal Hospital where Camenisch and Quinn were given limited options. Surgeons could operate in Ames but without a neurologist on staff, the surgery would be performed for the first time by Dr. Jaron Naiman, assistant professor of veterinary clinical sciences. JuJu could also be transferred to the University of Wisconsin's veterinary hospital, but it was feared the little dog wouldn't survive the journey.
Or the owners could opt to do nothing. According to Quinn, that wasn't a viable option.
"We thought if Iowa State and its fine doctors and students could benefit from performing the surgery, the least we could do is give JuJu a chance to recover," he said.
The surgery was a long-shot but sometimes long shots pay off. In this case, it paid off big time.
Naiman says while he had never done this surgery before, the techniques used are very similar to other surgeries he's done.

"Before the surgery, I read up on the procedure, consulted with the University of Wisconsin neurologists," he said. "It's a very delicate procedure but it's just like spinal surgery that I modified for the brain."
JuJu's injury was to the cranial portion of the brain. Naiman removed the front part of the skull to relieve the pressure on his brain and removed bone fragments. And although the surgery was successful, JuJu wasn't out of the woods just yet.
The chihuahua was unable to breath on his own and needed to be placed on a ventilator. Dr. Rebecca Walton, clinical assistant professor of veterinary clinical sciences, was involved with JuJu's initial care and after surgery she was back on the case.
"After surgery JuJu was not breathing on his own, so I placed him on the mechanical ventilator (respirator) so we could breathe for him," Walton said. "He slowly started to show evidence that he wanted to breathe on his own so after 24 hours of breathing for him, we slowly weaned him off the machine and removed a tube from his airway."
Another step down, but JuJu still had issues. Walton says the dog wasn't neurologically normal but amazingly after another 18 hours of constant care and attention, JuJu started to eat and walk on his own.
"Soon afterwards we were able to visit JuJu in the hospital and it was a true gift to be able to get kisses on my nose, feed him and watch him walk, albeit, a little wobbly," Camenisch said.
JuJu's prognosis is good and he was released less than two weeks after the initial injury. He's now home with two grateful owners.
"We've brought our dogs to Iowa State before so we knew they (doctors and students) thought our dogs were like family members," Quinn said. "We can't say enough about the teamwork here, the ongoing number of people working on JuJu to make him better was amazing."
December 2018