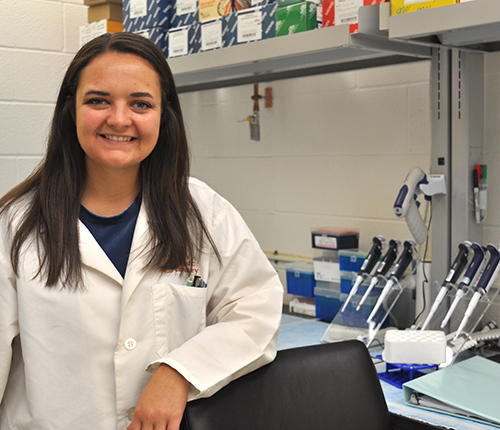 Molly Kroeger waited and bided her time. And then she jumped at the opportunity to apply for the USDA's Animal and Plant Health Service's National Bio and Agro-defense Facility Scientist Training Program (NSTP).
"I first heard about this fellowship two years ago," said Kroeger, an Immunobiology PhD student in the Department of Veterinary Diagnostic and Production Animal Medicine. "I thought it was a great opportunity for me given the strong alignment with my career interests." Kroeger, who graduated from South Dakota State University in 2020, has very definite ideas about her career goals. And after being named a recipient of a USDA's NSTP graduate fellowship, those career goals are even more defined.
The NSTP's mission is paramount to the long-term success of the USDA's Foreign Animal Disease Diagnostic Laboratory as Kroeger and other graduate fellows become the next generation of subject matter experts in emerging and foreign/transboundary animal diseases.
Kroeger, who is a graduate research assistant with Dr. Pablo Pineyro, associate professor of veterinary diagnostic and production animal medicine, is working on Senecavirus A. The virus causes pigs to develop lesions on their snouts and hoofs.
"This is a major concern among the swine industry, particularly because of its similarities to Foot and Mouth Disease (FMD)," Kroeger said. "I will be using Senecavirus A as a model to better understand immune response and pathogenicity of FMD, ultimately leading to the development of better vaccines" Kroeger's interest in animal health research began on her family's crop and livestock farm and continued during her undergraduate studies at South Dakota State. There she worked in that school's Veterinary Diagnostic Laboratory developing diagnostic tests and reagents around swine viruses. An internship with Merck Animal Health in Kansas City further cemented her career goal and led her to the PhD program in the College of Veterinary Medicine.
"I knew I wanted to focus on livestock diseases," Kroeger said, "and I wanted particularly to focus on immunology, viruses, and vaccine development."
"Iowa State's focus on livestock really appealed to me. I enjoyed working at the diagnostic lab at South Dakota and I like having a direct tie to actual farms. That's a unique aspect to this graduate program."
As a NSTP graduate fellow, Kroeger will receive funding for her tuition, stipend, research, travel and publishing activities. Upon completion of her PhD, she will join the staff of the National Bio and Agro-Defense Facility being constructed in Manhattan, Kansas, where she will work in the North American FMD Vaccine Bank. The bank is tasked with determining which vaccines to stockpile to be used in the event of re-introduction of FMD to Canada, the United States, and Mexico.
"I am incredibly excited to have the start of my professional career in a world class facility with high caliber scientists. More importantly, I am excited to have a major role in protecting animal health and securing our nation's food supply," she said.
July 2021