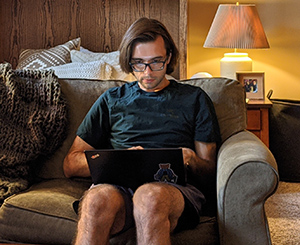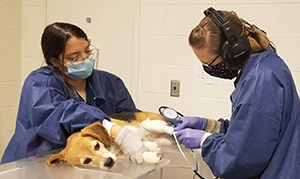 How do you take a program that thrived on personal contact and hands-on experiences into the COVID-19 world?
Do what the Summer Scholars Research Program accomplished this summer in the College of Veterinary Medicine.

"Despite the unique challenge we had to overcome this year, the summer scholars and mentors were still able to participate in a successful and rewarding summer scholars research program," said Dr. Brad Blitvich, professor of veterinary microbiology and preventive medicine and co-director of Summer Scholars Program. "Although many scholars were unable to perform hands-on work in the clinics and research labs, they finished the program with a new appreciation and understanding of research because of the time they spent reading and interpreting the scientific literature, analyzing data, and interacting with their mentors."
The Summer Scholar Research Program annually introduces veterinary medicine students to research in a wide array of areas. Participants choose to investigate specific issues that match their interest and the work of an established faculty researcher. This summer, the 17 summer scholars started out the program strictly on-line. Their orientation and other group activities, including sessions on how to prepare a poster, were held on Zoom.
"My project was done entirely online including weekly Zoom meetings and project overviews with my faculty mentors," said Brennan Goodman, a second-year veterinary student. "Of course, with COVID, our research changed and so did my project, which nevertheless was interesting."

Goodman worked on a research project with Dr. Qijing Zhang, Distinguished Professor of veterinary microbiology and production animal medicine. His original project was going to look at a novel method for tackling antibiotic resistance in Campylobacter. When COVID-19 hit, the project's focus was changed to look at the genomic epidemiology of Campylobacter upsaliensis.
"This is a pathogen that is starting to gain some attention as pets may be a reservoir that may cause human campylobacteriosis," Goodman said. "The change occurred because I wouldn't have been able to assist with the experiment in the lab due to COVID-19.
"It would have been nice to get some face time with chickens rather than my computer."
At the beginning of the program, every student, save one, had an online project. But as the summer progressed, a few summer scholars started working in labs and clinics. According to Blitvich, more than half of the research projects were conducted completely online. That caused the faculty mentors to scramble at the last minute to design online projects for the summer scholars.
Samantha Sotillo, a third-year veterinary student, was one of the summer researchers who was able to conduct her project in-person. Sotillo worked with Dr. Jessica Ward, the Phyllis M. Clark Professor in Veterinary Cardiology, to look at the effects of ACE inhibitors in healthy dogs, in particular what the optimal dose would be for a dog receiving the drug Benazepril for CHF treatment. Sotillo was involved in the organization and sample collection, performed blood draws, processing samples, observing echocardiography and blood pressure monitoring.

"I have been involved in so many steps and Dr. Ward made sure I was available to attend meetings, so I really got to see the way these projects come together," Sotillo said. "I definitely gained an appreciation for the process of setting up, completing and analyzing the results of a research project."
According to Julianna Henderson, a third-year veterinary student, the appreciation of what it takes to conduct a research project is one she got, even though she did her project totally on-line.
Henderson worked this summer with Dr. Matt Brewer, associate professor of veterinary pathology, compiling data about regulations, caseload and estimated prevalence of Tritrichomonas foetus in each individual state.
"I gained an appreciation for new skills in communication and in the lab," Henderson said. "I have also been able to network and make great connections both inside the college and out. "This has been a very valuable experience in my veterinary career."
July 2020