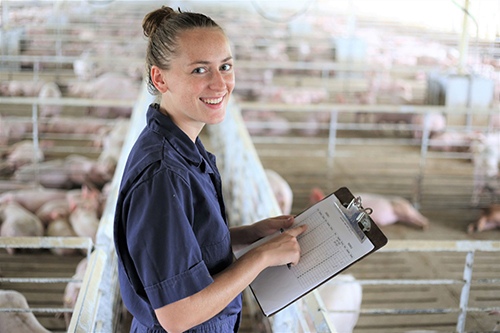 Katie Parker, a second year veterinary student at Iowa Select Farms, decided to spend last summer advancing her knowledge of swine health.
Parker participated in the College of Veterinary Medicine's Swine Veterinary Internship Program (SVIP) and interned at Iowa Select researching a project sponsored by Merck.
"Iowa Select has a great name behind them and even more wonderful people," Parker said. "I'm grateful I was able to learn from such knowledgeable individuals in the swine industry and get a solid understanding of swine health and production."

SVIP interns such as Parker collaborate with veterinarians at production systems or practices. During their internship they design and execute field trials from guidance from mentors. The program is designed to present short-term, field-based learning situations so the interns can gain hands-on practice in swine production medicine.

A Pennsylvania native, Parker is also working towards a Masters of Public Health degree at the University of Iowa.
As part of her responsibilities, Parker traveled with Iowa Select Farms veterinarians and supervisors. On these excursions, she learned the presentation of disease and optimal treatment for pigs of all ages.
"I conducted a few different research projects involving urinalysis and sow prolapses, truck wash biosecurity practices, and my main project focuses on tracking the effectiveness of GPS inoculation in regards to mortality at finishing," Parker said.
Once she completed her project, Parker shared her results at this fall's Leman Swine Conference in Minneapolis and will be presenting the paper at the AASV conference as well.

As an added bonus, Parker was mentored by a two-time SVIP intern – Dr. T'Lee Girard, a 2018 DVM graduate of Iowa State.
"Katie was a great asset to our team this summer," Girard said. "She was very willing to jump in and assist with any projects or 'out there' ideas that we've had come up. Often times, she took the bull by the horns and made them completely her own.

"Katie has become very skilled in multiple sampling techniques we often use over the course of the summer."
October 2021