Graduates Mentor and Give Back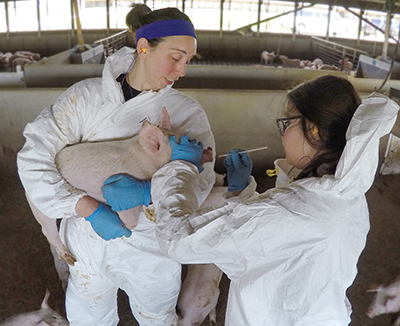 Each summer, students in the College of Veterinary Medicine participate in internship programs giving them the opportunity to collaborate with veterinarians in both the swine and dairy medicine industry.
The experience can be life (and career) changing.
"The internship provided me an opportunity to do things I didn't know about before," said Drew Noel, a third-year veterinary student who participated in the Swine Veterinary Internship Program (SVIP). "After completing the internship, I have a good handle on swine medicine."
After graduation, if Noel goes to work in the swine industry, there's a good chance he will be continue to be involved with the internship program. And he wouldn't be alone.
This past summer several recent graduates either hosted veterinary students or served as their company's liaison for the program. And all say they were anxious to serve as a mentor after completing a similar internship while they were in school.
"This internship program further confirmed my passion for infectious diseases, population medicine and preventive medicine," said Dr. Kate Dion, a 2011 DVM graduate who now works at Hanor USA and who interned for two summers. "Many of us had these opportunities as students and know how much it contributed to our education and our ability to perform at a high level in our job.
"These students are our future colleagues. They may become veterinarians for neighboring farms or systems and may provide technical services in the future. Often, they become another person on my list of folks I can call to talk about an issue and get more advice."
Dr. Christine Mainquist-Whigham, a 2016 DVM graduate, hosted a student intern for the first time this year. Her decision to participate was based almost solely on her own experiences as an intern.
"My internships completely altered my career track in vet school," said Mainquist-Whigham, a veterinarian with Pillen Family Farms, "and pushed me to think bigger and broader than I had prior to doing them. Part of that was the mentors I was so fortunate to have in those summer who encouraged me to do more and aim higher."
Dr. Shamus Brown, a 2013 DVM graduate and current Iowa Select Farms veterinarian agrees with his fellow Iowa State graduates. Brown also participated in the internship program while a student.
"We really need to focus on helping train our future veterinarians, showing them what they will be doing on a daily basis," Brown said.
Students are assigned a research project at the beginning of the summer. They then work with their "host" veterinarian in completing that project. Brown describes the first few days for the student interns as drinking from a firehose as they quickly take in company or clinic policies and protocols.
"Most of the interns do not know the people or have the contacts," he said. "As a host veterinarian that's the knowledge we provide."
"I work with our sponsors to identify students that would be a good fit for our company and the projects we have in mind for them," Dion said.
After coordinating with the veterinary and production teams, the mentor sets schedules for the interns and determines what projects they will be working on. The mentors travel with the interns on farm visits, while helping them complete their research projects.
The internship program is a win-win for not only the intern and mentor, but for the sponsoring company.
"It does require some extra work and personal investment in the students and projects, but with the help of the student, I was able to accomplish more for our company and gain valuable data from their projects," said Mainquist-Whigham.
"Without the interns' help, it would have taken a lot longer to complete all that work and likely wouldn't have been so thorough," Dion said of her interns and their projects. "I think it's important to continue to provide the opportunity for learning outside of the classroom and on the farm."
November 2018