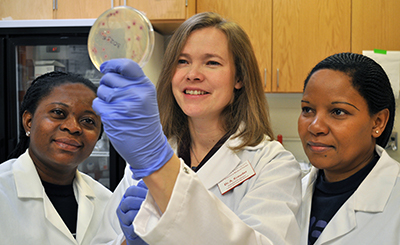 Switching Gears
Amanda Kreuder's career path seemed pre-ordained.
A undergraduate degree in dairy science, followed four years later with a DVM with a large animal focus. Her first jobs out of vet school trended towards large animal medicine and later she completed a residence in food animal medicine and surgery at Iowa State and became boarded in large animal internal medicine.
After joining the faculty in the Lloyd Veterinary Medical Center, Kreuder taught food animal medicine classes, everything from advanced dairy production medicine to ultrasound techniques and small ruminant medicine.
Along the way though Kreuder continued to go to school, eventually earning a PhD in veterinary microbiology and her interest soon shifted to include the cutting edge research in combination with her clinical duties in large animal medicine.
This past summer, Kreuder switched her career path away from food animal medicine. She accepted a new position in the College of Veterinary Medicine with a focus on antimicrobial resistance (AMR) research, teaching and service. In this position, she will continue to use the skills learned as a large animal internist to help direct the college's mission to promote antimicrobial stewardship and resistance education.
"I'm excited to be able to make a broader difference than I have been before," Kreuder said. "I loved being a large animal veterinarian and working closely with producers to improve the health of their herds and I will miss that aspect of being a clinical veterinarian in my new role.
"But the opportunity to make an impact on AMR and advance the knowledge of that field in research and extension was something I couldn't pass up."
In creating Kreuder's position, Dr. Dan Grooms, the Dr. Stephen G. Juelsgaard Dean of Veterinary Medicine, hopes to leverage the newly-established National Institute for Antimicrobial Resistance Research and Education (NIAMRRE) at Iowa State, along with other college programs including the One Health initiative to address important societal problems.
In her new role, Kreuder will further AMR research and promote antimicrobial stewardship in the college's teaching and service enterprises by working closely with NIAMRRE. A majority of her appointment will be devoted to research and scholarly activity although she will continue to have teaching and professional practice responsibilities.
"I will be expanding my research program considerably with this new position although a lot of my of research has a human health or One Health aspect to it already," Kreuder said. "I'll not just be looking at bacteria and why it acquired the resistance but other things we can do to eliminate the needs for antibiotics."
Kreuder freely admits that being the first person to hold this position at Iowa State is a "little bit scary" but that it's exciting to build a program from the ground up.
"My training has been such that I believe I can effectively understand both the clinical side and the research side of the AMR issue," she said. "I hope to be able to leverage their (NIAMRRE's) resources and build upon the program already established here in the college while increasing awareness substantially."
October 2019