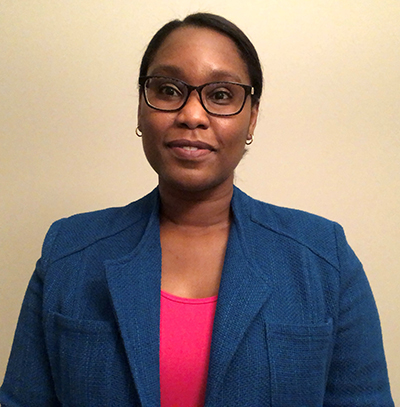 Dr. Tara Grinnage-Pulley's path as a veterinarian has taken her from Maryland to Tuskegee to Iowa State, then Iowa City and now back home in Maryland.
Along the way, Grinnage-Pulley honed her research interests and veterinary skills that led her to a position as a veterinary medical officer with the National Cancer Institute, a division of the National Institutes of Health within the U.S. Department of Health and Human Services.
"Like most of us who knew we wanted to go veterinary school from middle or high school, I wanted to be a typical veterinarian," said Grinnage-Pulley. "Originally I went down a very traditional path, earning an animal science degree with the plans of studying equine medicine."
Things started to change with an undergraduate scholarship from the United States Department of Agriculture. The funding for her animal science degree at Tuskegee University took her into the federal sphere for summer internships. It was while at USDA that the future veterinarian was taken aside by her staff veterinary mentor, Dr. David Morris.
"Dr. Dave was very adamant in advising me that veterinarians could do a variety of things," she said. "He wanted me to see other aspects of the profession, that there were different choices I could take."
That experience was just the first of Grinnage-Pulley's many excursions into the non-traditional areas of veterinary medicine.
She took the advice to heart during her summers at USDA. She started at what is now National Institute of Food and Agriculture and took opportunities for rotations in both the Agriculture Research Service and Animal and Plant Health Inspections Service units.
Heading to Iowa State Grinnage-Pulley dived headlong into a concurrent DVM-PhD program with a research focus. She spent two weeks in China learning acupuncture and worked summers in Dr. Qijing Zhang's Campylobacter research lab as part of her graduate studies.
After graduating with her DVM in 2009, Grinnage-Pulley turned her focus to completing her thesis on Campylobacter antimicrobial resistance mechanisms. Completing her PhD in 2013 she was at a cross-roads to find a way to blend her interest in research and veterinary medicine skills.
That road lead to Iowa City, where she joined Dr. Christine Petersen's lab as a postdoctoral scholar working on the zoonotic parasite leishmania. While at the University of Iowa her research focused on immune responses to leishmania. Her primary work on response to leishmania surface antigens paired nicely with on-going work in the lab on canine immune responses to leishmania vaccine antigens.
Grinnage-Pulley served as a veterinarian for field studies on canine leishmania epidemiology and immunology. That work also lead into working as part of the veterinary team on a field trial of anti-leishmania vaccine studies in a naturally infected hunting dog population.
"I attempted to get as many experiences on both the veterinary and research sides, seeing as many different aspects of the profession as possible," she said. "But in the end, I couldn't see myself just seeing patients.
"I wanted to make a bigger impact."
That desire along with her veterinary experiences and research background in infectious diseases and immunology, led Grinnage-Pulley to making a bigger impact at the National Cancer Institute. She works in the Biological Testing Branch, supporting research to evaluate anti-cancer agents and develop models for a variety of cancers.
In her role, Grinnage-Pulley focuses on animal well-being and welfare of laboratory animals. A lot of that work deals with herd health, husbandry, and disease prevention.
As the Biological Testing branch works with xenografts and patient derived xenografts in model development and pre-clinical testing, there also the work to review the data generated from tumor growth, tumor characterization.
"I like the variety," Grinnage-Pulley said. "I still get to work around animals and do veterinary things mostly with mice and a few rats. But I also get to be in the lab where I do research and generate data that human clinicians can use to improve cancer therapies.
"It's being able to apply everything that you learn in vet school, all of the research-related things and still being challenged to do something new that makes this job exciting."
May 2021