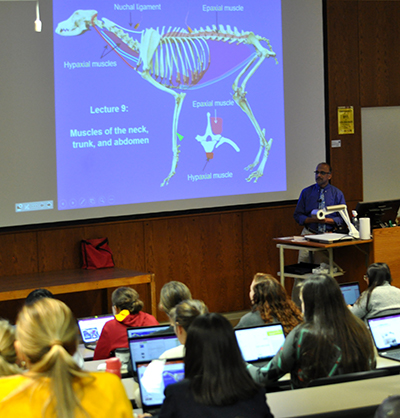 A New Approach to Anatomy
For Dr. Thimmesettappa Thippeswamy, time is of the essence. Known by students and colleagues as 'Swamy', he delves right into his anatomy lecture with little, if any, introduction.
But students expecting to hear the same old anatomy lectures will be surprised by Thippeswamy's teaching technique. His goal is to motivate students to learn the subject, not just memorize it. That's a throwback to his own experience as a student.
"As a student I didn't like anatomy because of the way it was taught," he said. "There was so much memorization and I wondered 'why do I need to know this?'
"Anatomy is probably the most hated subject due to the nature of the course. There are just so many things to remember."
Traditional anatomy courses feature embalmed specimens where students read, memorize, regurgitate, pass the exam, and forget the next day what has been learned painstakingly throughout the semester. The traditional approach may be beneficial for students when they are tested, but Thippeswamy argues they don't retain much of the information.
"Students who do that may do well on an exam, but they don't maintain that knowledge post-exam," he said. "I try to instill real-life scenarios in my classroom and persuade them to learn what a clinician will be looking at."
He also takes the same approach when he gives a lab exam.
"I will not just ask them to identify structure but I will ask a question to see if they know what the function and consequence of an injury is," Thippeswamy said. "I believe this motivates student to learn anatomy because they know their weaknesses.
"Otherwise we're only testing their memory and not their understanding of the topic and their ability to apply the knowledge later in clinical practice."
Thippeswamy began teaching anatomy classes in the College of Veterinary Medicine in 2013 after he moved from the University of Liverpool Veterinary School in England.
It's doubtful if the students in his very first class would recognize the course if they took it today.
"Every year I have changed the curriculum based on student feedback," Thippeswamy said. "I'm always tweaking the course because I need to prepare them as best as possible."
The changes must be working. Thippeswamy, who in addition to his teaching responsibilities runs an active, NIH-funded epilepsy research program, is a frequent recipient of teaching awards. In recent years the professor of biomedical sciences has been named the Zoetis Distinguished Veterinary Teaching Award by veterinary students and the Award for Outstanding Achievement in Teaching by the College of Veterinary Medicine.
And his student evaluations confirm his teaching prowess. One student writes…
"He wants each student to get the most out of the class and he explains everything in such a clinically relevant way it makes understanding thing a piece of cake. Dr. Swamy is an anatomy student's dream professor."
September 2018