Traveling Virtually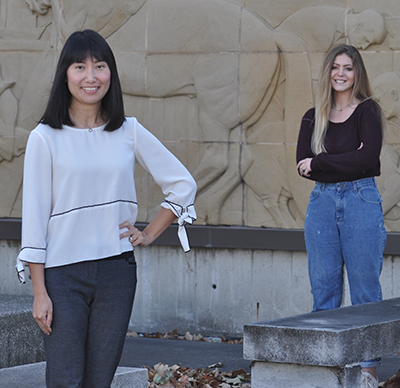 COVID-19 may have shut down study abroad opportunities, but it hasn't deterred the International Veterinary Students' Association (IVSA) in the College of Veterinary Medicine (CVM) from having virtual experiences with their counterparts around the world.
Over the past month, the student organization has sponsored a series of virtual exchanges with veterinary students in Australia, India and Ghana.
"The ongoing pandemic has closed many doors for students at our college, international travel being one of them," said Clara Young, Iowa State's IVSA representative. "While it is easy to focus on everything COVID-19 has brought to a halt, we have made it a point to capitalize on the silver-linings of virtual learning by focusing on the many opportunities that internet communication provides students.
"Through Zoom we have been able to meet with veterinary students from around the world, exchange stories and culture, and make friends from other countries – all without a price tag or a passport."
The exchanges have ranged from meeting with specific veterinary schools within a country as was the case with Kumasi, Ghana and Queensland, Australia, to meeting with representatives from multiple veterinary colleges across India.
Young and Xiaoshuang Wei, CVM coordinator of international programs, hope to facilitate future partnerships with universities around the world.
"Our international programs provide educational opportunities and resources to veterinary medicine students to develop global perspectives through exposure to different cultures, environments, people and veterinary medicine fields from abroad," Wei said.
As she developed the international virtual exchanges, Young also wanted to provide students with the opportunity to learn about other cultures.
"Not only will a greater cultural awareness among students foster a more inclusive environment at the college, but it will also allow us as young professionals to work effectively and respectfully, cross-culturally," she said.
The exchanges have included presentations on their country, university and veterinary colleges. IVSA has also presented on some of the traditions at Iowa State while learning about the customs and travel highlights of the exchanging country.
That's the formal part of the exchange. The informal part has allowed the students to engage each other, asking questions and sharing personal experiences. The exchanges typically ends with the two schools playing the "Slang" game and "What am I" game. It's another opportunity to learn more about each other's culture.
"My favorite so far in the Slang game has been the Indian slang word 'tube light,' which literally refers to a flashlight but is often used as slang to describe someone who is always the last to understand a concept," Young said. "Both games have thus far been a hit and have been both educational and the source of a lot of laughter."
While the exchanges won't replace seeing new places and having new experiences, Young says the time she and others have spent speaking with veterinary students in Australia, India and Ghana has been beneficial.
"The aspects of traveling that I really feel have been lost is the opportunity for cultural immersion and making new connections abroad," Young said. "Thus far, I believe our virtual exchanges have been effective in allowing students to temporarily escape the U.S. as we learn about the cuisine, culture, religious preferences and education of other countries.
"We have established wonderful connections with veterinary students abroad."
October 2020