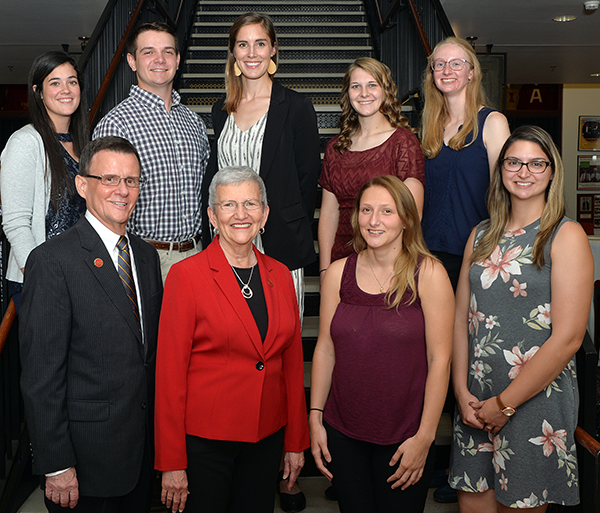 Volunteers, Supporters, Cheerleaders and Donors
The story is almost folklore in the College of Veterinary Medicine.
It's a story of how two individuals – with no prior connection to Iowa State University – have come to be two of the most dedicated and fiercely devoted Cyclones on the planet. So much so that they consider Iowa State their second home and describe their association with the University as "volunteers, supporters, cheerleaders and donors."
For years Lora and Russ Talbot lived and worked in the Des Moines area. As Russ neared retirement, the couple began to dog sit for several friends.
"At about the same time, we recalled having read articles in the Des Moines Register about the Companion Animal Fund and the Wildlife Care Clinic in the College of Veterinary Medicine," Lora said. "We were interested in supporting their missions and began directing contributions there."
When the friends offered to pay the Talbots for taking care of their pets, the couple instead asked that they contribute to one of those two funds.
"Initially we mailed the checks to the College and then decided to deliver them in person," Russ said. "That was a major turning point for us."
When visiting the College, the Talbots became impressed not only with the sincere gratitude for their support but also with the passion of the faculty, staff and students toward their patients and clients.
The relationships they built in those initial visits were a catapult for the couple's ever-growing connection to the College. They funded a scholarship that has grown into an endowed scholarship program that provides four-year scholarships for seven veterinary students, a second scholarship program of two-year scholarships for two recipients, and a graduate fellowship in veterinary medicine that has assisted 11 graduate students working on either master's or PhD degrees.
"Scholarships are important to help alleviate student debt, but they can do more than that," Russ says. "Scholarships uplift and energize students. Receiving the awards can improve their attitudes and outlook on their long educational journeys."
The scholarships have also opened doors for the Talbots to get to know the recipients.
"We enjoy being a part of their support team as they grow and develop during vet school," Lora said. "We get to know them personally and understand what they are experiencing."
The Talbots are also frequent attendees of College events even though they now live in Belmond, Iowa, just over an hour drive to Ames. You'll see them at graduation, the White Coat Ceremony, lectures, PhD defenses and other activities.
The couple has also become actively involved with other activities at Iowa State including the College of Human Sciences' Fashion Show, the ISU Alumni Association and the ISU Foundation. These are all in addition to the many local community groups they volunteer with in Belmond.
"We support and get involved with organizations and activities that align with and share our values of working for the greater good and having a positive impact," Russ said. "Volunteering keeps us grounded and we continually learn new things and expand our understanding of others."
During Iowa State's Forever True for Iowa State fundraising campaign, the Talbots have served as co-chairs of the College of Veterinary Medicine's Campaign Committee. As members of this committee, the couple strives to be advocates and exemplary role models for the College.
"We enthusiastically represent and promote Vet Med in a positive light and without reservation," Lora said. "Being on the committee has been very educational. We have learned a great deal about the College and are better equipped to share information with others."
Make no mistake about it, the Talbots are as passionate about Iowa State and its programs as any alumnus. Maybe that's why they were a natural choice to be named "Honorary Alumni" by the ISU Alumni Association in 2017.
"We are especially proud and exceedingly grateful to be named as honorary alumni," the couple write. "We are also humbled to be selected and are very excited about our future as ISU alums!"