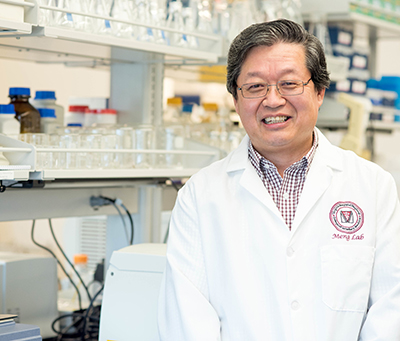 World-class Contributor
To be the inaugural recipient of any award, you have to have a special career.
In the case of Dr. Xiang-Jin Meng that would be an understatement.
Meng is a recognized global expert on emerging and zoonotic animal viruses. His research has had a significant global impact on veterinary medicine and public health. His contributions include the discovery of swine hepatitis E viruses (HEV) from pigs and avian HEV from chickens as well as demonstration of cross-species and zoonotic infection by HEV.
An impressive career to say the least. So impressive that he has been elected to both the National Academy of Sciences and the National Academy of Inventors.
And now the University Distinguished Professor at the Virginia-Maryland College of Veterinary Medicine at Virginia Tech can add another award to his list. He is the inaugural recipient of the Dr. Lorraine J. Hoffman Graduate Alumni Award in Iowa State's College of Veterinary Medicine.
It was at Iowa State that Meng received his PhD in immunobiology, years after earning his MD.
"Indeed, my training background is somewhat unorthodox," Meng said. "I thought the best way to utilize my unique training was to conduct biomedical research in the field of comparative medicine.
"In this way, I felt I could contribute to both human and veterinary medicine in a meaningful way."
Being a trained physician, Meng sees the potential tangible impact of his research on both humans and animals. Through his work with vaccine development against emerging and zoonotic animal viruses, he has focused his energies on developing effective vaccines against deadly animal viral diseases.
His work on porcine circovirus-associated diseases has advanced the technology to rapidly and accurately diagnose PCV infection. His research group invented the first fully-licensed USDA commercial vaccine against porcine circovirus type 2.
Meng has also focused on One Health.
"I strongly believe that the most efficient way to prevent emerging human infectious diseases is to study and control the animal pathogens in their own animal hosts before they cross species barriers and infect humans," he said. "That is why my lab has a keen interest in understanding the mechanism of cross-species infections by emerging animal viruses."
Meng's expertise has allowed him to establish collaborative projects around the world and several at Iowa State. Those collaborations are essential since, as he says, "there are no boundaries for infectious diseases."
"A virus does not need a visa to travel," Meng says, "and this has been proven over and over again."
Meng's journey to the National Academy of Sciences began when he completed his PhD in immunobiology at Iowa State. He describes this time period as "the tipping point in his career," essentially changing his career path.
His original plan was to obtain a PhD and then work at a medical school conducting research on human diseases. But his time at Iowa State sparked his curiosity in emerging animal viruses.
"I still vividly recall my very first meeting with Dr. Prem Paul at Iowa State, who explained to me about all the different animal viruses he was working on at the time," Meng said. "I was completely fascinated, so much so I decided not to even do the typical three lab rotations before choosing a graduate mentor."
While the world doesn't have a problem with Meng's career path, at least one person does.
"My mother, however, still has an issue with my career choice," he says. "Every time I see her, she would tease me, 'I sent you to a medical school, right? Are you still working with pigs and chickens?'"
November 2019