Rodger Main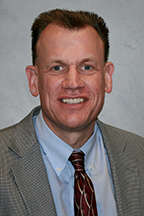 Administration (VDL)
Administration (VDPAM)
Education & Certifications
PhD (2005) Kansas State University College of Veterinary Medicine
DVM (1996) Iowa State University College of Veterinary Medicine
BS (1991) Iowa State University College of Agriculture
Research Focus & Interests
 Diagnostic Medicine, Area Regional Disease Control, Swine Production Medicine
Honors & Awards
Iowa Pork Congress Award for Honorary Master Pork Producer, 2014
Alpha Gamma Rho (Iowa State University) Alumni Achievement Award, 2012
Allen D Leman Science in Practice Award, 2008
National Pork Producer Award for Innovative Research, 2003
Leadership/Committees/Council
Professor and Director of Operations (Feb 2009 - Present)
Provides leadership, direction and management for ISU VDL.
ISU VDL consists of a team of approximately 25 faculty and 125 technical staff processing more than 80,000 diagnostic case submissions each year.
Selected Publications
Madson D, Magstadt D, Arruda P, Hoang H, Sun D, Bower L, Bhandari M, Burrough E, Gauger P, Pillatzki A, Stevenson G, Wilberts B, Brodie J, Harmon K, Wang C, Main R, Zhang J, and Yoon KJ. 2014. Pathogenesis of porcine epidemic diarrhea virus isolate (US/Iowa/18984/2013) in 3-week-old weaned pigs. Veterinary Microbiology. 174(1-2):60-68.
Li G, Chen Q, Harmon K, Yoon KJ, Schwartz K, Hoogland M, Gauger P, Main R, Zhang J. 2014. Full-length genome sequence of porcine deltacoronavirus strain USA/IA/2014/8734 from the United States. Genome Announcement. 2(2):00278-14.
Lowe J, Gauger P, Harmon K, Zhang J, Connor J, Yeske P, Loula T, Levis I, Dufresne L, Main R. 2014. The role of harvest plant lairage and transportation in propagating the initial stages of an outbreak of porcine epidemic diarrhea virus in the United States in 2013. Emerging Infectious Diseases. 20(5):872-874.
Chen Q, Li G, Stasko J, Thomas J, Stensland W, Pillatzki A, Gauger P, Schwartz K, Madson D, Yoon KJ, Stevenson G, Burrough E, Harmon K, Main R, Zhang J. 2014. Isolation and characterization of porcine epidemic diarrhea viruses associated with 2013 disease outbreak in US swine.  Journal of Clinical Microbiology. 52(1):234-243.
Jones C, Madson D, Main R, Gabler N, Patience J. 2014. Poor weaning transition ADG in pigs is not correlated with pathological or immunological markers of enteric disease during a PRRSV outbreak. Journal of Animal Science. 92(6):2568-2577.
White D, Rotolo M, Olsen C, Wang C, Prickett J, Kittawornrat A, Panyasing Y, Main R, Rademacher C, Hoogland M, Zimmerman J. 2014. Recommendations for pen-based oral fluid collection in growing pigs. Journal of Swine Health Production. 22(3):138–141. 
Pepin B, Kittawornrat A, Liu F, Gauger P, Harmon K, Abate S, Main R, Garton C, Hargrove J, Rademacher C, Ramirez A and Zimmerman J. 2013. Comparison of specimens for detection of porcine reproductive and respiratory syndrome virus infection in boar studs. Transboundary and Emerging Diseases. 10.1111/12135.
Olsen C, Wang C, Christopher-Hennings J, Doolittle K, Harmon K, Abate S, Kittawornrat A, Lizano S, Main R, Nelson E, Otterson T, Panyasing Y, Rademacher C, Rauh R, Shah R, Zimmerman J. 2013. Probability of detecting PRRSV infection using pen-based swine oral fluid specimens as a function of within-pen prevalence. Journal of Veterinary Diagnostic Investigation. 25:328-335.