Ravindra N Singh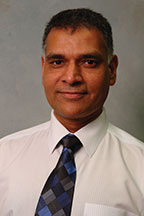 Education & Certifications
PhD, Biochemistry, 1993, Institute of Biochemistry and Physiology of Microorganisms, Russian Academy of Sciences, Pushchino, Russia
MSc, Biochemistry, 1985, Banaras Hindu University, Varanasi, India
BSc, Chemistry Honors, 1983, Banaras Hindu University, Varanasi, India
Teaching
Present                                 Instructor-in-charge, BMS 575, Cellular and Molecular Biology
Research Focus & Interests
Singh group works on the interface of fundamental and translational biology. General interest of his group has been to understand the mechanism of alternative splicing, a vital process that increases the coding potential of genome in all higher eukaryotes. Alternative splicing is also associated with a growing number of diseases including neurological and neuromuscular disorders, cardiovascular disorders and cancer. Particular focus of his group has been to understand the molecular basis of Spinal Muscular Atrophy (SMA), a debilitating genetic disease of infants and children. His award-winning discovery relates to finding a unique regulatory element located within the non-coding region (or intron) of Survival Motor Neuron (SMN) gene. He has termed this novel regulatory element as "Intronic Splicing Silencer N1", which is abbreviated as "ISS-N1" (US patent # 7,838,657). ISS-N1 remains the most studied antisense target for splicing correction in a human genetic disease. US Food and Drug Administration (FDA) has recently approved Spinraza (synonyms: Nusinersen, IONIS-SMNRX, ISIS-SMNRX), an antisense drug based on ISS-N1 target (Read the story). Hence, Spinraza becomes the first antisense drug to restore a full-length functional protein in a human disease (watch a video on YouTube). 
Singh group continues to develop additional targets and antisense formulations for an efficient correction of aberrant splicing in SMA (see news links below). In a paradigm shifting discovery, Singh lab has recently reported a unique RNA structure formed by a deep intronic sequence as a regulator of SMA gene splicing (Slide Presentation). This discovery provides lead for developing yet another oligonucleotide-based therapy of SMA. 
In addition to above accomplishments, Singh lab has made seminal contribution towards a better understanding of role of RNA binding proteins in regulation of splicing of SMN2 exon 7, skipping of which is intimately linked to SMA pathogenesis. His discoveries are relevant for uncovering the novel mechanisms of genome-wide regulation of alternative splicing in normal and pathological conditions. His other interests include RNA-protein interactions and isolation of RNA aptamers as detection and diagnostic tools.
---
Current funding source: National Institutes of Health (NIH) and Salsbury Endowment
News Links about Dr. Ravindra Singh:
Honors & Awards
2006 Presidential Early Career Award for Scientists and Engineers (PECASE) (The highest civilian award given to young US scientists) Website
Named Endowed Dr. John G. and Mrs. Doris Salsbury Chair (2008-2016)
Permanent member of NIH CDIN study section (2008-2012)
Leadership/Committees/Council
Editorial Board Member: BBA-Gene Regulatory Mechanisms, Frontiers in Bioscience, PLoS One, Scientific Reports (Nature)
Organizing committee member, 2010 RNA in Motion Symposium, Ames IA, USA.
Organizing committee member, 2010 One Health Symposium, Ames IA, USA.
Active member of George Washington Carver internship program for disadvantaged students. Website
Founding member and Co-Chair, 2012 Faculty Research Symposium, College of Veterinary Medicine, Iowa State University, Ames IA, USA.
Member, Organizing committee, 2013 Faculty Research Symposium, College of Veterinary Medicine, Iowa State University, Ames IA, USA.
Reviewer for many granting agencies including National Institutes of Health (NIH), National Science Foundation (NSF), US Department of Defense (DoD), Alzheimer's association, Italian Telethon Grants, Consiglio Nazionale delle Ricerche (CNR) Italy, Scottish Hospital Endowments Research Trust Grants, Medical Research Council (MRC) UK, National Medical Research Council (NMRC) Singapore, and US-Israel Binational Science Foundation.
Reviewer for many journals including Annals of Human Genetics, Biochimica et Biophysica Acta, Clinica Chimica Acta, Current Molecular Medicine, Drug News & Perspectives, Expert Opinion in Drug discovery, FEBS Letters, Human Molecular Genetics, Human Genetics, Journal of Molecular Medicine, Journal of Cell Biology, Journal of Molecular Biology, Medical Science Monitor, Nature series journals, Neurology India, Nucleic Acids Research, PLoS series journals, Proceedings of National Academy of Sciences (USA), Science Translational Medicine, Trends in Molecular Medicine.
Memberships
American Society for Microbiology (ASM)
The Genetics Society of America (GSA)
The RNA Society
Society for Neuroscience (SfN)
American Association for Advancement of Science (AAAS)
American Society for Human Genetics (ASHG)
American Society for Cell Biology (ASCB)
Oligonucleotide Therapeutic Society (OTS)
Osborne Club, Iowa State University
Selected Publications
---
Summer Scholar Projects:
Summer scholars (undergraduate and veterinary students) selected through various internship programs would learn one or more of the following techniques:
1. Blast analysis of alternative splicing of different genes using public data base
2. Isolation and processing of RNA from pathological samples (human and animal samples)
3. Design and perform PCR experiments to amplify alternatively spliced transcripts
4. Run agarose and polyacrylamide gel electrophoresis
5. Perform tissue culture experiments
6. Perform gene silencing experiments
7. Perform cloning and expression experiments
8. Perform protein isolation and purification
9. Perform immunological tests
10. Write and present scientific report
Prospective graduate students in Singh Lab 
If you are interested in obtaining your Ph.D. in Singh laboratory, please apply to one or more of the following interdisciplinary graduate programs at Iowa State University:
Interdepartmental Genetics Program (IG)
Interdepartmental Molecular Cellular and Developmental Biology Program (MCDB)
Interdepartmental Neuroscience Program (Neuro)
Toxicology Graduate Program (Tox)
Bioinformatics and Computational Biology Graduate Program (BCB)

Depending upon the availability of funds, each program selects a limited number of promising graduate students with the first-year stipend. First year students are given opportunity to rotate in three laboratories of their choice. If you are admitted to any of the above-mentioned programs and have interest in RNA Biology and/or genetic diseases, you are welcome to rotate in Singh laboratory. Singh laboratory has funds to support a limited number of talented Ph.D. candidates from the second year onward if students have demonstrated acceptable performance and creative potential during the rotation period. Please note that Singh laboratory does not accept students without a rotation. Should you have a question regarding any specific graduate program at Iowa State University, please contact the respective program coordinator through the specific weblink listed above.