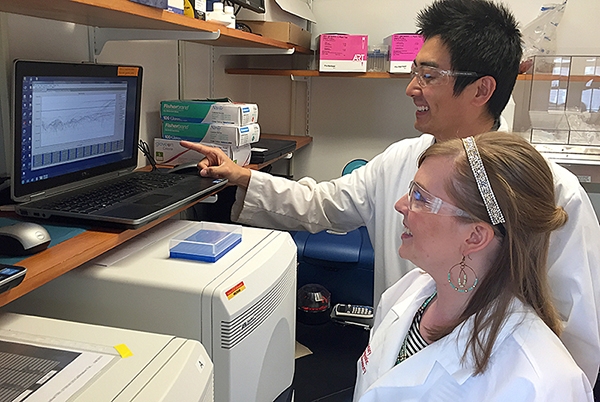 Biomedical Sciences
The BMS program is designed to train biomedical scientists in veterinary and comparative biology with emphasis on morphological analysis, cellular and molecular biology and physiology.
BMS Graduate Program
Veterinary Clinical Sciences
The graduate program of the department focuses on two major areas: residency training in preparation for board certification, and research training at the Master's level. The department offers the Master of Science degree with a major in Veterinary Medicine, Veterinary Surgery, or Theriogenology.
VCS Graduate Program
Veterinary Diagnostic & Production Animal Medicine
The department is uniquely composed of faculty with internationally recognized expertise in a variety of basic disciplines, including bacteriology, epidemiology, immunology, pathology, statistics, toxicology, and virology. Research is focused on infectious and non-infectious diseases at both the basic and applied levels.
VDPAM Graduate Program
Veterinary Microbiology and Preventive Medicine
A broad range of basic and applied research is represented by the faculty who participate in our graduate programs. These include: immunomodulation, vaccine development, infectious diseases, microbiology, microbial genetics, microbial pathogenesis, molecular virology, diagnostics, epidemiology, food microbiology, and food safety.
VMPM Graduate Program
Veterinary Pathology
The department has focus areas of pathology, clinical pathology, parasitology, and an emphasis on training ACVP board-certified pathologists (residency/MS or PhD). We link basic and clinical science through essential roles in learning for students (undergraduate, veterinary and graduate) and veterinarians, diagnosis and reporting of diseases, and scientific research, including infectious and emerging diseases, parasitic diseases, animal models, and diseases of high consequence to animal and human health through integrated education, diagnostics, and research.
VPATH Graduate Program
DVM/MBA Program
Iowa State University offers applicants to the College of Veterinary Medicine the opportunity to apply for the concurrent Doctor of Veterinary Medicine/Masters of Business Administration Program. This program is designed to allow a student admitted to the DVM program a one-year deferment to the professional program in order to begin the MBA at Iowa State University's College of Business. Detailed information about the program and its requirements can be found on the College of Business website.
DVM/MBA Program
DVM/MPH Program
This combined degree program is the result of the collaboration between faculty at Iowa State University, College of Veterinary Medicine and the University of Iowa, College of Public Health. Veterinary students can complete this degree concurrently and graduate in four years. Graduate veterinarians can utilize distance technology and obtain the MPH degree while remaining in their current job and place of residence. Detailed information regarding applications, classes, and opportunities for graduates working in public health can be found at the link below.
DVM/MPH program
Graduate College
Faculty members in the College of Veterinary Medicine collaborate with many other academic units on campus with interdepartmental graduate studies. Graduate College Professional development resources for Iowa State graduate students are available online at the Graduate College's Center for Communication Excellence. 
Concurrent Enrollment
Students may be concurrently enrolled in the professional curriculum leading to the D.V.M. degree and in a graduate program leading to the M.S. or Ph.D. degree after completion of 90 undergraduate semester credits. The graduate program may be in the College of Veterinary Medicine or in another college.
Students are subject to normal rules and procedures of both colleges. Graduate credit is available only for courses identified in the Iowa State University Catalog as carrying graduate credit. Students may use graduate courses, where applicable, to meet requirements for the professional curriculum, provided they have been approved for that purpose by the college curriculum committee.
A student may pursue graduate studies during summer and vacation periods and may elect to postpone the fourth year of the professional curriculum for one year to pursue graduate studies and research.
The Graduate College handbook has a section dedicated to Veterinary Medicine Students in Concurrent Graduate Degree Programs.
Concurrent Graduate Degree Application Form
Connect with your fellow graduate students on Facebook.