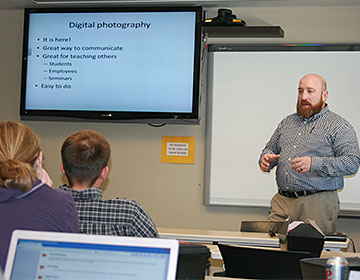 Flipping the Script
There's a reason why Dr. Locke Karriker holds the Gustafson Chair for Teaching Excellence in the College of Veterinary Medicine.
Karriker, an associate professor in the Department of Veterinary Diagnostic and Production Animal Medicine, isn't afraid to try new and innovative things in the classroom. For his teaching skills, this past fall he was recognized with Iowa State's Award for Outstanding Achievement in Teaching.
One of the areas that probably caught the awards committee's attention was Karriker's latest efforts in providing veterinary medicine students with the best possible classroom instruction.
These days Karriker is actively "flipping classrooms." This is a pedagogical learning model in which the lecture and homework elements are basically reversed. Video lectures are viewed by the student outside of the classroom, leaving more time in the regularly-scheduled class period for group work, projects, discussion and questions.
"Students have a greater opportunity to apply what they have learned in the class and become more engaged in the content with the flipped classroom approach," Karriker said. "It creates a better environment for brainstorming and is a less didactic method of learning."
Karriker is using the flipped classroom approach with "Introduction to Production Medicine," a prerequisite for fourth year veterinary students' clinical rotations in the Department of Veterinary Diagnostic and Production Animal Medicine.
The more traditional way of teaching the course "wasn't meeting our objectives," Karriker said. "We have transitioned the students to a more clinical thought process where they observe all elements of a case up front."
So Karriker and his colleagues in the department switched up the course. Now students view a pre-recorded lecture that describes the "hows and whys" of a subject. The pre-recorded lectures are limited to an hour each, leaving another hour for Karriker and his students to delve further into the subject.
"The key is to use various classroom techniques to involve the students in discussion," Karriker said. "We want to build in the right opportunities for students to participate. This approach has led to much more discussion in the flipped classroom than we had in the more traditional class setting.
"Just as importantly, that discussion touches more of the complexity of the case. When you have open discussions like this the students are much more engaged than they were previously."
Karriker's efforts with the flipped classroom approach have proven to be such a success that he was asked to speak on the initiative at a university-wide seminar series presented by the Center for Excellence in Learning and Teaching.
June 2016