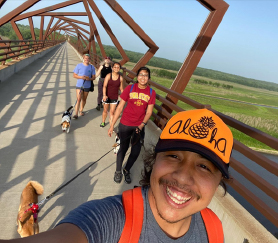 Trekking Around Ames
Learn more about Kealaka'i Matsumoto in this feature article from the Hawai'i Community College.
He's not afraid to say he didn't know where Iowa was located when he applied to veterinary school.
And he's definitely not comfortable with the extreme winter and summer weather patterns he experiences in his new home.
But Kealaka'i Matsumoto doesn't mince words when it comes to his affection for Iowa, Ames and the College of Veterinary Medicine.
"I'm very comfortable here in Ames," the Hawaii native and second-year veterinary student said. "Everything is so close; the only problem is the weather. The cold and heat are much different than what I'm used to.
"Humidity is not my friend."
Matsumoto is so comfortable being out and about in the community that he has traveled the Ames streets to find places where he and his dogs Kama and Malu can get a little exercise. Matsumoto, who says he didn't hike much in his hometown of Hilo, Hawaii, acknowledges that changed when he moved to Ames.
The vet student and his furry companions would go for a walk most days. Then COVID-19 hit and all of a sudden he had more time on his hands. Because of travel restrictions, he couldn't fly back to Hawaii, so Matsumoto, Kama and Malu made the most of the situation.
"We went on an adventure," Matsumoto said. "We started out trying to find all of the Cy statues in town and we would walk to them."
For the record there are at least 30 Cy statues in front of businesses, city offices and other locales in Ames. Matsumoto has created a series of hikes to the various statues. The hikes range from 1 ½ miles to just under five miles. He has published those Ames Walking Trails and made it available to his fellow veterinary students if they wish to duplicate his, Kama and Malu's efforts.
He didn't stop there either. He documented other walking/hiking trails in Ames city parks, the main Iowa State campus and outlying areas. Those and other activities are available now on the College of Veterinary Medicine website.
"It took us about a month to see all of the Cys," Matsumoto said. "We average around three miles a day and we're always exploring other places we can walk to."
One of the trio's favorite places to visit is the Tedesco Environmental Learning Corridor near Research Park in Ames. Matsumoto describes the 3.5 mile roundtrip walk from his home at the
Old Orchard trailer park as "great for walking your dogs, a quick bike ride, watching geese in the pond, catching fireflies and photographing your pets."
These days Matsumoto's walks are not just confined to him, Kama and Malu. When he tires of watching another lecture online, he will walk to any number of veterinary students living in the trailer park, telling them it's time for a "brain break." Oh, and bring along their dogs. "It's a great opportunity not to think about school, just go out and get away from our studies," he said.
September 2020