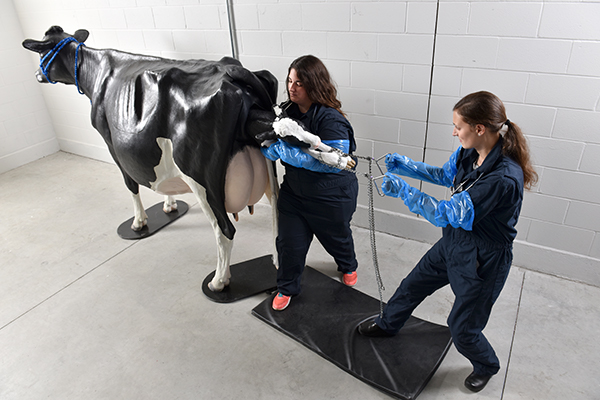 "Frosty" has taken up permanent residency in the Clinical Skills Laboratory in the College of Veterinary Medicine.

Frosty's new address has been made possible through gifts by several individuals, including several from the Class of '75.

The life-size Holstein dystocia simulator is the centerpiece of the Clinical Skills Laboratory, a facility created to provide opportunities for students to become more confident about any number of procedures. The lab solves an age-old dilemma on having student veterinarians gain experience in the profession before treating a live animal for the very first time.

Coming with a fully articulated 70-pound calf and working udder, Frosty will give birth thousands of times in her lifetime, all while not creating any risk to students, the cow or the calf, appropriately named "Snowflake."
"I didn't have a lot of bovine experience so the cow model is a great way for me to learn," said Jennifer Ruff, a third-year veterinary student. "The model also has a pelvic bone model so you can actually feel the bone structure, making it a lot easier for me to figure out how to work around that.
"We (veterinary students) have so much enthusiasm. We all want to touch live animals. But this is a great way to channel our enthusiasm and not be scared to do these procedures
Frosty and Snowflake are just a few of the models that provide a safe, low-risk environment for students to improve their competency in any one area while supporting self-directed and mentored learning, as well as organized labs utilizing medical simulators and models.

Many of these models have been made possible through donations to the college through the ISU Foundation. A recent gift of $10,000 from the Smalley Foundation with additional funds from the Class of '75 will provide Frosty with company.
A full-size equine palpation/colic simulator is due to arrive soon at the Clinical Skills Laboratory, providing additional learning opportunities. And that isn't all. 
Additional models are on the way to the Clinical Skills Laboratory including:
Equine neck venipuncture and equine GI tract;
Bovine theriogenology model;
Swine euthanasia model;
Canine spay simulator.
"Frosty" was made possible through donations from Dr. Paul Armbrecht ('71), Lake City, Iowa; Dr. Scott Armbrust ('75), Green Bay, Wis.; Dr. John Kurt ('75), Paririe du Chien, Wis.; and Dr. Dan Smith ('75), Montrose, S.D. Additional funds were provided by the ISU Department of Veterinary Diagnostic and Production Animal Medicine.