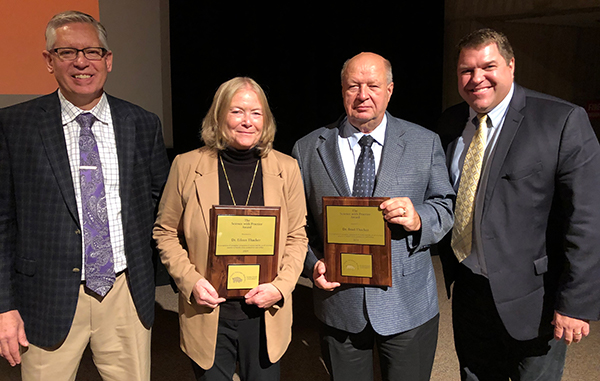 Ames, Iowa – Eileen Thacker, DVM, and Brad Thacker, DVM, received the Science with Practice Award from Iowa State University's College of Veterinary Medicine. The award, presented at the ISU James D. McKean Swine Disease Conference in Ames, Iowa, Nov. 7, recognizes exemplary integration of science and the art of veterinary practice to benefit swine productivity and welfare.
"It was a genuine pleasure to award Brad and Eileen Thacker this year's Iowa State University James D. McKean Science with Practice Award," said Chris Rademacher, DVM, ISU swine extension veterinarian and chair of the conference committee. "Brad and Eileen have both contributed richly both in terms of research and practical application of veterinary swine medicine over their long and storied careers.  Eileen's research has contributed with foundational knowledge on the control of Mycoplasma hyopneumoniae and Brad has contributed practical knowledge in the area of disease control and elimination.  As former faculty members of Iowa State University it was wonderful to be able to bestow this award on them."
Dr. Eileen Thacker received her DVM in 1978 from the University of Minnesota and PhD in 1992 from Michigan State University. She is a Diplomate of the American College of Veterinary Microbiologists. She was in private practice in Minnesota and Michigan before completing her PhD. In 1994 she accepted a position in the Department of Veterinary Microbiology and Preventative Medicine at Iowa State University.  Thacker joined USDA as National Program Leader of Agricultural Research Services in 2008.
Dr. Brad Thacker is an alumnus of University of Minnesota, earning a DVM, MS, and PhD. He later earned an MBA from Iowa State University. Dr. Thacker was in private practice in Minnesota before joining the faculty at Michigan State University in 1983 and later Iowa State University's Department of Veterinary Diagnostic and Production Animal Medicine at Iowa State University in 1994. He left academia in 2002 to join the veterinary medicine industry and is currently the Associate Director of Scientific Marketing Affairs at Merck.
"Eileen and I are extremely humbled to receive this award and we couldn't be more grateful for this recognition by Iowa State University," Brad Thacker said. "We have had the opportunity to work with many students, practitioners, researchers and producers over the years and we wish to thank everyone for their continued support."
Drs. Thacker have two adult children and enjoy their three grandchildren in Nashville, Tennessee. Their accomplishments and impact on the swine veterinary community in the state of Iowa and beyond make the Science with Practice Award a great fit for them.