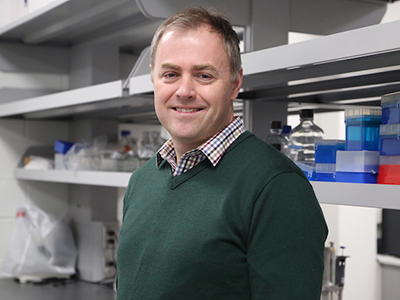 September 28, 2020
Dr. Michael Kimber, professor of biomedical sciences, has been named chair of Iowa State University's Department of Biomedical Sciences (BMS) in the College of Veterinary Medicine.
Kimber has served as the department's interim chair for the past year.
A faculty member at Iowa State since 2006, Kimber also served as a post-doc at Iowa State after graduating with a PhD in molecular parasitology from Queen's University in Belfast.
At Iowa State, Kimber's research has focused on neuromuscular biology of parasitic worms in particular the role played by small molecule transmitters in an effort to identify novel targets for antiparasitic drugs. He has recently launched efforts to develop a vaccine for a currently incurable mosquito-borne illness (lymphatic filariasis).
He is a past recipient of the College of Veterinary Medicine's Mid-Career Achievement in Research Award.