Establishing a Relationship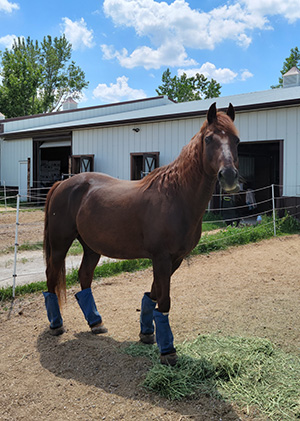 Karen Baker distinctly remembers the first time she called the Lloyd Veterinary Medical Center about one of her horses.
So does Dr. Beatrice Sponseller, clinical associate professor in the College of Veterinary Medicine.
"It all started out when her horse had a suspected episode of choke or aspirated something that resulted in mild pneumonia," Sponseller said.
Baker remembers putting in a call to the hospital late in the afternoon.
"Dr. Sponseller – well she came right over and helped us out," Baker said. "I've kept her as my vet ever since."
During that initial visit to treat Baker's horse, the Equine Field Services unit which Sponseller is part of didn't have a portable ultrasound unit. Sponseller "borrowed" the old in-house ultrasound for her house call.
"Unfortunately, that unit did not work consistently and sometimes would just freeze," Sponseller said. "It was a bit frustrating trying to ultrasound her horses' chest and she asked how much an ultrasound unit would cost and voiced some interest in supporting our Equine Field Services unit."
That initial house call by Sponseller has not only earned her a long-time client but has also led to several significant gifts from Baker to Equine Field Services. In addition to a portable ultrasound probe, Baker has provided funds for a linear rectal transducer which allows Iowa State veterinarians to do pregnancy checks in the field.
"All the clinicians in Equine Field Services were using the ultrasound more frequently and we ran into problems when one clinician had the machine and the other one may see an emergency case in the field that would benefit from an ultrasound examination," Sponseller said. "Karen has provided funds for a small, single-probe unit that has proved to be invaluable when we are out in the field."
Baker says the relationship she and her horse, Captain, a Foundation Morgan, have established with Sponseller is what has inspired her to contribute to the hospital and the Equine Field Services unit in particular.
"I have a great relationship with Dr. Sponseller, she's such a great lady and has gone above and beyond to treat my horses," Baker said. "To me, when there is a need and I can fulfill that need, then that's a win-win for both of us.
"I love seeing when the vets are using something I've helped fund. I know they appreciate it – it's a wonderful feeling."
Gifts to the Equine Medicine Greatest Need funds support the annual needs in the most critical areas within equine medicine.
July 2021