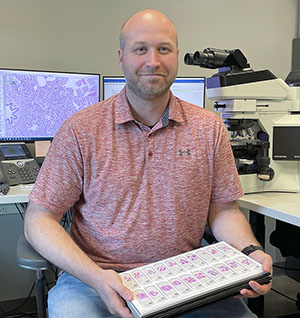 When she was named the first recipient of the Dr. Tom Juergens Equine Reproduction Excellence Fund, Dr. Theresa Beachler, assistant professor of veterinary diagnostic and production animal medicine, knew exactly how she would utilize the funds.
The same was true for Dr. Chris Siepker, clinical assistant professor in the Veterinary Diagnostic Laboratory, after he was awarded the Schwartz Clinical Faculty Fellowship.
Beachler wanted to support the house officers in her department and has directed funding to Dr. Giuliana Maria Gianino, a second year theriogenology resident.
"I wanted to support Giuliana's graduate school education and research," Beachler said. "For me it's a good investment that puts the donation to good use."
Tom Juergens (DVM Class of '75) established the fund to provide, among other things, general support for theriogenology efforts with a preference for work advancing knowledge, clinical best practices, and instruction related to equine theriogenology.
In the future, Beachler hopes the Juergens Fund can be used to improve the department's theriogenology equipment, thus expanding equine services for the Lloyd Veterinary Medical Center's clients.
Like the Juergens Fund, the Schwartz Clinical Faculty Fellowship was established by an Iowa State veterinary alumnus. Dr. Kent Schwartz (DVM Class of '78) was a long-time faculty member in the Veterinary Diagnostic Laboratory before recently retiring.
The fellowship will allow term clinical faculty within the VDL to pursue new ideas, creative projects and research that allow them to develop professionally and provide services valued by the VDL's stakeholders.
Siepker plans to use funding from the Schwartz Fellowship to research challenging respiratory diseases of cattle, like atypical interstitial pneumonia (AIP). There is no known cure for the disease.
"Even though this affects a small percentage of a herd, AIP has been affecting feed lot producers for decades," Siepker said. "Hopefully others will benefit from this research."
While at Iowa State, Schwartz was known for pursuing issues that would answer his clients' questions. Siepker plans to follow in those footsteps.
"All of us here in the VDL have this mindset," he said. "Obviously we can't pursue everything you see when looking through a microscope, but then again, I go into every day with the thought that any slide I see could be the next big thing.
"Maybe this is the next big thing."